'Drunk Uncle Out Here Lying Again' Kevin Durant Hits Back at Shannon Sharpe for His Recent Comments
Published 04/13/2021, 11:51 AM EDT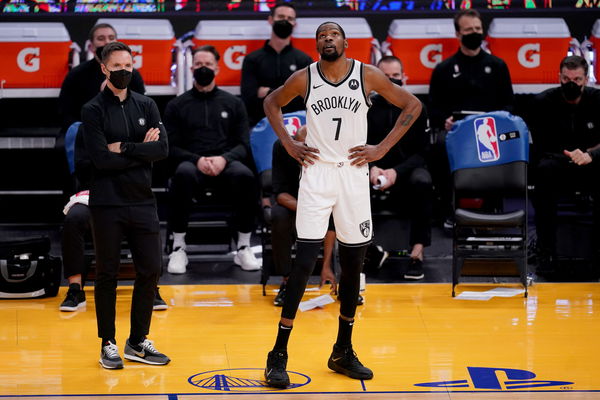 ---
---
Kevin Durant finally made his return to the court after missing around two months of basketball action. Although he was off to a flier in his first game, his rusty gameplay was at full display against the defending champions Los Angeles Lakers.
ADVERTISEMENT
Article continues below this ad
Although he did have a game-high 22 points against the Purple & Gold, KD had a whooping 8 turnovers to his name and looked sloppy in possession. Considering he is just back from a long layoff, his inconsistent form shouldn't worry the Nets. Once Durant is fit alongside Kyrie Irving and James Harden, he will be the favorite to win his third career championship.
NBA analyst lashes out on Kevin Durant for lack of motivation
ADVERTISEMENT
Article continues below this ad
Before the game, Durant sat for an interview with ESPN's Rachel Nichols. There, the 32-year-old claimed that he plays basketball for development and not for the championship.
"Once I won a championship [with Golden State], I realized that, like, my view on this game is really about development. Like, how good can I be? It's not about, you know, let's go get this championship. I appreciate that stuff and I want to win to experience that stuff, but it's not the end-all, be-all of why I play the game."
While there is no doubting KD's talent and his varied skill-set, analyst Shannon Sharpe rather had a bold take on his commitment. Sharpe claimed that Durant was rather unmotivated to win championships.
Sharpe said, "The titles put his mind at ease. Because if he felt like that in the beginning, he would have never left OKC and went to Golden State. Now I'm not saying he wouldn't have left OKC. But he wouldn't have gone and fast tracked himself to getting titles. So it's easy for him to say now because guess what skill, he has that luxury of having those titles, having those Finals MVP on his resume."
Sharpe also came up with a bizarre claim, saying that KD was indeed focused on winning championships to be known as the best in the game ahead of LeBron James.
"The titles did not give him the validation that he thought it would. Kevin Durant thought by winning the titles, everybody was gonna regard him as universally, the best player in the NBA better than even LeBron James. But very few people were willing to go there."
KD hits back at Shannon Sharpe
Understandably, Kevin Durant was frustrated with Sharpe's comments. While he didn't react to him being unmotivated to win the championships and KD hit back at Shannon Sharpe for his other outrageous claim of Durant trying to eclipse LeBron James.
ADVERTISEMENT
Article continues below this ad
This is not the first time KD has called out a critic like Sharpe. But given that this won't be stopping anytime soon. Durant will set his eyes for a championship run.
ADVERTISEMENT
Article continues below this ad
Given the enormous talent pool the Nets has at its disposal, it is surely a championship or bust for Brooklyn. Do you think the Nets will ultimately prevail in the NBA finals this season?
Trending Stories