'Dude Up There Gave Him Everything' – NBA Legend Dwyane Wade Explains What Makes LeBron James so Special
Published 03/24/2021, 6:00 AM EDT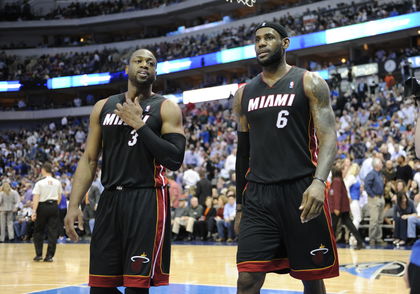 ---
---
LeBron James is one of the most incredible phenomenons to enter the NBA. Despite being in his 18th season, James has been playing at the highest level for his entire career. James is oft considered the most durable NBA superstar in history. And despite being 36 years of age, he doesn't look like he is slowing down anytime soon. One former teammate explains what makes him special.
ADVERTISEMENT
Article continues below this ad
D-Wade on how LeBron is gifted
Former NBA champion and Miami Heat legend Dwyane Wade spoke on the 'I AM ATHLETE' podcast. When asked about what makes LeBron James so special, D-Wade gave a very simple answer. He believes that LeBron was born gifted. However, he also noted that LeBron works harder than most athletes when it comes to rest and nutrition.
ADVERTISEMENT
Article continues below this ad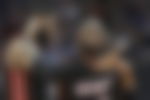 "This dude up there. He gave him everything… We know about taking care of your body. What do you put in your body? Nutrition, that's why I have a chef, that's why you guys have a chef. We understand the training that you need as athletes, farm athletes, we understand the training that you need." 
LeBron James is built different
ADVERTISEMENT
Article continues below this ad
Wade added that LeBron is a freak of nature. He gave the example of an ankle injury, which would sideline and take out a normal athlete for a few weeks. But LeBron was different. He suffered the ankle injury, then went on to deliver a solid attacking performance. Wade added that James was given all the tools when he was born and he has harnessed them very well.
"Ultimately, I've watched this guy and I see him take care of his body, I've seen him own it 100%. But I also know that guy can roll their ankle can be out four weeks. I've seen this guy roll his ankle and come back and give you about 20 in the fourth quarter. I'm talking about a badly rolled ankle, like 'oh he's done'… When God made him, he was like 'I'm going to give him all this'…"
ADVERTISEMENT
Article continues below this ad
Will LeBron James return soon? Prior to his ankle injury, James was putting up MVP level numbers. As of now, there is no fixed timeline for LeBron to make his return. However, the Lakers organization will make sure not to rush him, as they need him healthy if they are to find any success in the post-season this year.