Duke University Alumni Kyrie Irving, Jayson Tatum, and Zion Williamson Create History at NBA All-Star Game 2021
Published 03/08/2021, 5:15 AM EST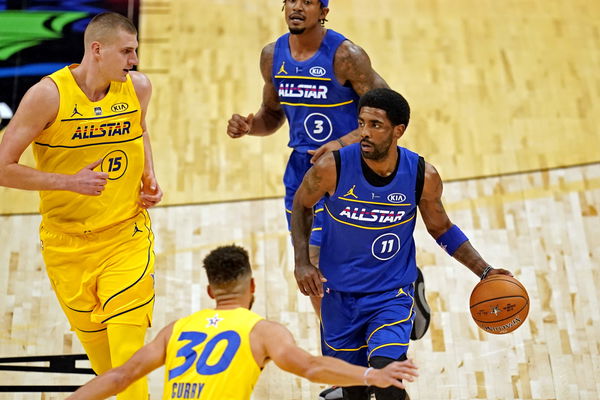 ---
---
Duke University is one of the most renowned programs in Division I basketball. The Blue Devils have a long history of sending talented players to the NBA and three of them just made history at the 2021 NBA All-Star Game. 
ADVERTISEMENT
Article continues below this ad
What's the significance between Duke and the All-Star Game? Well, the 2021 edition of the ASG took place under complicated circumstances, and three former Blue Devils made a unique piece of NBA history. 
Kyrie Irving, Jayson Tatum, and Zion Williamson make Duke proud at NBA All-Star Game 2021
ADVERTISEMENT
Article continues below this ad
What was so special about Irving, Tatum, and Williamson? Well, these three former Duke players all received starting rights at the NBA All-Star Game 2021. The added significance is that they started for the same team and that is the first such instance in NBA history. 
The All-Star game had never seen three starters on the same team sharing the same alma mater until today. Hence, it was a special night for Duke University too, when Irving, Tatum, and Williamson started the 2021 All-Star game. 
Kyrie Irving is the senior amongst the three former Duke athletes. Irving was a Blue Devil during the 2010-11 season, and the other two also attended the school on a one-and-done basis. 
It has only been two years since Zion Williamson left Duke. He bolstered the Blue Devils' lineup as a freshman and averaged 22.6 points and 8.9 rebounds in 33 games. 
Irving stole the show by outperforming the other two Duke alums at ASG
Kyrie Irving was the senior-most Duke alum present at the All-Star Game 2021, and he was also the highest point-getter among the three. The Nets guard outscored both Tatum and Williamson. 
Irving played 32 minutes as a starter and finished with 24 points, five rebounds, and 12 assists to his name. Tatum, meanwhile, scored 21 points, while Williamson finished with 10.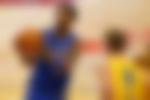 However, all these efforts came at a losing cause in the end. Team Durant proved to be no match for Team LeBron and lost all four quarters in the game. It was a completely dominant performance from the team led by LeBron James as they won 170-150. 
ADVERTISEMENT
Article continues below this ad
Milwaukee Bucks' Giannis Antetokounmpo led all scorers with 35 points and collected the Kobe Bryant All-Star Game MVP award to conclude the 2021 All-Star Weekend. 
Giannis Antetokounmpo scored 35 points on 16-16 shooting in the 2021 #NBAAllStar game.

That is the most makes without a miss over an entire All-Star game. The previous record was held by Hal Greer going 8-8 in 1968. pic.twitter.com/Rr4AV38coS

— NBA History (@NBAHistory) March 8, 2021
ADVERTISEMENT
Article continues below this ad