'Dumbest Sh*t' – Miami Heat Legend Reveals Media Criticism When Shaquille O'Neal Joined the Team
Published 03/14/2021, 8:17 AM EDT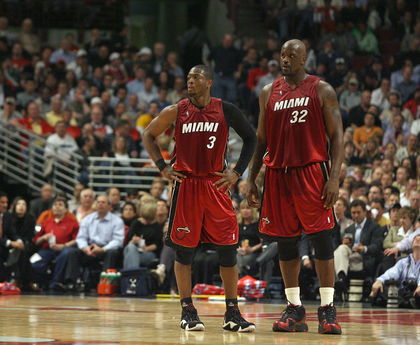 ---
---
Shaquille O'Neal is one of the most dominant players in NBA history. The former MVP had a legendary career, having found success throughout the league. Shaq's greatest success came with the Los Angeles Lakers, where he won three NBA championships under Phil Jackson. But that honeymoon period ended when Shaq went to the Miami Heat after a bitter falling out.
ADVERTISEMENT
Article continues below this ad
Shaquille O'Neal and Udonis Haslem not given their credit
Former NBA champion Udonis Haslem spoke to James Posey for his podcast. When asked about his experience teaming with Shaquille O'Neal, he noted that he was very excited to play with him. Shaq was one of Haslem's idols growing up, and he was looking forward to the opportunity to play with him.
ADVERTISEMENT
Article continues below this ad
He said, "I was excited about it. Growing up watching basketball, if you're a fan of the game of basketball, then you know Shaq was the most dominant player of his era. The opportunity to play with that player, that was exciting for me first and foremost. The second part of it was the expectations."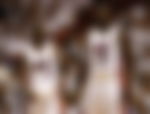 Haslem added that he wasn't happy with the media speculation about him. Prior to the Heat playing any games, the media critiqued the team structure. They believed that Udonis Haslem was too small to start at power forward and play with Shaquille O'Neal, which Haslem dismissed, because Shaq played forwards even smaller than him.
"Now you have expectations to win. Not just win basketball games, but win championships. As soon as we signed Shaq, there were articles criticizing me as being the starting power forward next to Shaq because they're saying 'it's the dumbest sh*t ever. Shaq ain't never won a championship with a power forward below 6'8'." 
Haslem unhappy with the criticism
Haslem noted that Shaq and he had a conversation, noting that he was better than some of the other smaller power forwards he played with. But the arrival of Shaq, and the media criticism of him, motivated Haslem to play even better. He was ready to meet the championship expectations placed on the Heat.
ADVERTISEMENT
Article continues below this ad
"So I'm saying to myself because I ain't 6'8 that means we ain't going to win? So now you're saying Travis Knight and all these guys are better than me because they played with Shaq? So I'm looking at this like 'this man hasn't even got here yet, and they're already looking for something to pick at, and it's me'.
"That's another thing that just motivated me. When Shaq came, expectations were to win championships."
ADVERTISEMENT
Article continues below this ad
Shaq went on to win his fourth NBA championship with Miami Heat. Haslem was a good front-court partner for O'Neal. Is Haslem one of the most underrated players in NBA history? He is a three-time NBA champion and has played with some of the greatest players in NBA history, like Shaq, LeBron James, and Dwyane Wade.