Duncan Robinson Recalls the Time When He Thought He Was Close to Being Dropped From Miami Heat
Published 01/29/2021, 12:38 PM EST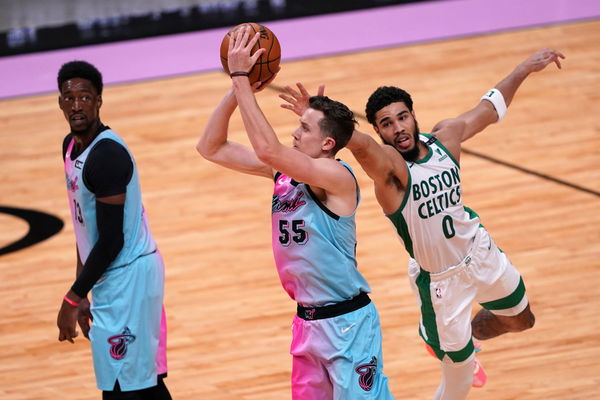 ---
---
Duncan Robinson is now the starting shooting guard for the Miami Heat. Robinson has earned his privileges, and he's also one of the best long-range shooters in the NBA. The 26-year-old has settled into the league, but Robinson had a major scare of being waived during his rookie year.
ADVERTISEMENT
Article continues below this ad
26-year-old Duncan Robinson is now in his third year with the Miami Heat and is performing admirably. But the journey hasn't been easy and there is one story from his rookie season that Robinson would never forget. 
Duncan Robinson reveals an embarrassing story from his rookie year
ADVERTISEMENT
Article continues below this ad
NBA rookies are treated to some old-fashioned hazing by their experienced teammates. These young players generally tend to hold their horses and lay low during their first year in the league. Duncan Robinson employed a similar mindset, but he once faced embarrassment outside the Heat's training facility. 
Robinson was out past midnight during his rookie season to meet with a group of friends in the city. The shooting guard was initially hesitant to visit them, but eventually took the trip to the restaurant. Here's what happened next:
"I get out of the Uber and I randomly see a staff member of ours; our shooting coach walking a block across the street and I'm like 'Oh that's weird,' like a good thing I kind of missed him, I could just kind of stay anonymous," Robinson began.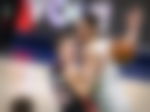 "Then I walked downstairs into the restaurant, and the entire Miami Heat coaching staff is walking out of Tao. I am absolutely mortified, I'm so embarrassed that in my first year I'm basically the optics of what it looks like is that I'm like having a night out on the town," he expressed. 
How did the Miami Heat staff members react after stumbling into Robinson?
Robinson mentioned that it was past midnight, and he was in his rookie season. The shooting guard thought he was in trouble after meeting his coaching staff in the most awkward of circumstances, but how did it end up?
"I am so embarrassed to be seeing them. They asked me 'Hey Duncan, what's up?' They don't think anything of it, and I literally don't even know what to say. I freeze I'm like 'Uh I'm just going to see my friends' and they're like 'Dude we don't care.'
ADVERTISEMENT
Article continues below this ad
"It was just so hard for me to wrap my mind around that I go and sit down and have dinner with you guys and I'm a mess. I'm like 'Dude this is over, I'm gonna get cut they don't think I take my work seriously this is it. We're done. We had a good run," Robinson mentioned. 
What's funny is that Duncan Robinson was narrating the whole incident to his friend who was present during the incident. So it was just a recap for him, but an enlightening story for Miami Heat fans and NBA fanatics, who've never heard of this story before! 
ADVERTISEMENT
Article continues below this ad