Dwyane Wade: "I Caught Shaquille O'Neal at The Right Time in His Career"
Published 11/27/2021, 8:11 PM EST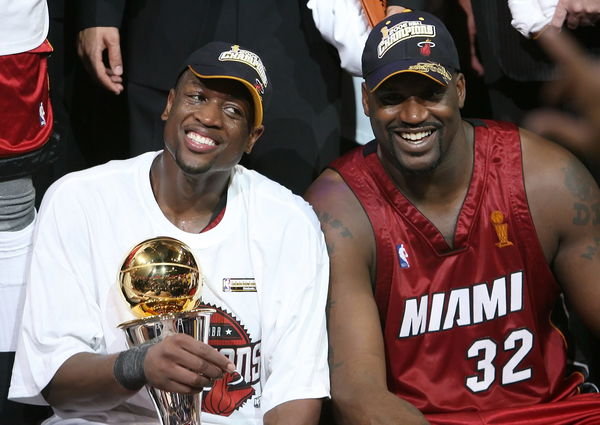 Shaquille O'Neal joined the Miami Heat during the 2004-05 season, and his addition changed the team drastically. Notably, Dwyane Wade was just in his second season when Shaq joined. And Shaq helped a young Dwyane Wade improve and become one of the greats of the game.
Shaquille O'Neal and Dwyane Wade elevated the Miami Heat
Miami reached the Eastern Conference finals in the 2004-05 season with the duo putting up phenomenal performances. Dwyane Wade averaged 24 points and 5 rebounds per game with Shaquille O'Neal averaging 23 points and 10.4 rebounds that season. (Source: ESPN)
ADVERTISEMENT
Article continues below this ad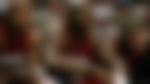 "To have that guy tell me that I'm going to be one of the greatest," Wade said while promoting his memoir, 'Dwyane', "To have that guy tell me that he's going to turn me into one of the best shooting guards ever play the game and all these things, can you imagine my confidence? Can you imagine where the things he said to me took me?"
Shaq averaged 20.0 points, 9.2 rebounds, 1.9 assists, and 1.8 blocks per game in the 2006 season. Dwyane Wade was having a blast that year with 27.2 points, 5.7 rebounds, and 6.7 assists per game. Both of them were named in the All-Stars team.
"I caught Shaquille O'Neal at the right time in his career," said Dwayne Wade in an interview with Insider.
Wade lived up to O'Neal's prediction of him being one of the best guards in the league. The following season, Miami beat Dallas Mavericks in the Finals with Wade averaging 34 points and named finals MVP.
Shaquille O'Neal in Miami Heat
ADVERTISEMENT
Article continues below this ad
The Miami Heat acquired 7'1″ center Shaquille O'Neal in a trade with the Los Angeles Lakers on July 14th,2004. O'Neal spent 3.5 seasons with the heat before joining the Phoenix Suns midway through the 2007-08 season. 
Shaquille O'Neal led the Miami Heat to their first-ever championship in 2006 while partnering with young guard Dwyane Wade. O'Neal averaged 19.6 points, 9.1 rebounds, 2.1 assists, and 1.9 blocks in 205 regular-season games for the Heat. He put up 18.8 points, 9.0 rebounds, 1.7 assists, and 1.5 blocks in 40 playoff games.
Although his time with the Heat was short-lived, the impact was tremendous. O'Neal helped develop Dwyane Wade, who became a Heat legend, and also led them to their first-ever championship. Miami Heat retired his #32 jersey on December 12, 2016.
ADVERTISEMENT
Article continues below this ad
WATCH THIS STORY: Justin Bieber Met Nyjah Huston for a Freestyle Skateboard Session- Here's What Happened