ESPN Producer Reveals a Michael Jordan vs Steve Kerr Story That Hints Towards His Highly Competitive Spirit
Published 03/18/2021, 7:30 AM EDT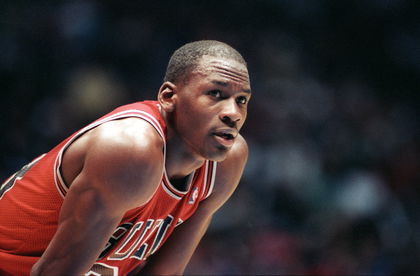 ---
---
Michael Jordan became a legendary figure, more so because of his fiery drive than because of anything else. Winning was his obsession, and losing was never an option for him. He proved this time and again in those 13 seasons with the Chicago Bulls. 
ADVERTISEMENT
Article continues below this ad
MJ was a cultural phenomenon during his peak, and a lot of that was because of his hunger to win. As someone who would never settle for less, Air Jordan completed two three-peats and even took a detour to play minor league baseball. But what were some instances when he stunned the onlookers with his competitiveness?
The Bulls legend and his unearthly expectations from himself
ADVERTISEMENT
Article continues below this ad
Multiple times Emmy Award winner and ESPN Producer Mandy Cohen recently made an appearance on a podcast where she shared experiences from her live sports production with WGN-TV Chicago in the 90s. To give the listeners a perspective of Michael Jordan's insanely competitive drive, she narrated an interesting tale.
Cohen revealed, "Steve Kerr was the master three-point basket. And at the end of every shoot around… You do that half-court shot. And everybody takes a half-court shot to see who can make it. So they were no exception. But a lot of times, we'd have to stay until Michael hit more than Steve. Just weren't going anywhere, would hold up the whole bus until he hit more. That was just his personality. He was not going to lose at anything. You could see it in just every little detail." 
Steve Kerr joined the Bulls in 1993 and stayed until the end of the era in 1998. In his career, the now Warriors coach Kerr converted 726 three-pointers in 910 games. He attempted only 1.8 threes per game, but his career average of 45.4% still stands better than Steph Curry's.
Meanwhile, in the 1994-95 season, Jordan scored threes at 50%, while Kerr hit them at a career-high 52.4%. It is all the more clear now why MJ wanted to beat his teammate so badly.
Read also – Three Times an Angry Michael Jordan Fought With His Chicago Bulls Teammates
When Michael Jordan yelled at the producer
ADVERTISEMENT
Article continues below this ad
Mandy spent quite a lot of time traveling with the Bulls in the 90s and hence, she has some unheard tales about MJ. In an even more interesting tale, Mandy spoke about how MJ's obsessive-compulsive competitiveness was unrivaled.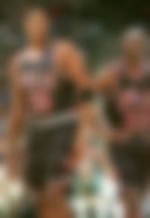 Mandy narrated, "One time we got on the plane after a game and we're flying home, gets on the plane. He comes running up to me right in my face, and he goes, 'I did not travel in the second quarter minutes ago.' And I'm like 'okay, first of all, I have nothing to do with that. So why are you screaming at me? I did not ref the game.' I said, 'But you didn't get called for a foul in the fourth quarter' when he's like, 'okay, fine.' You know, why are you yelling at me? Oh my God, the Bulls beat them by 30. And he's so upset that he got called for traveling in the second quarter when it had been nothing… I've never seen another athlete get that upset over something that small."
ADVERTISEMENT
Article continues below this ad
It's hard to imagine someone coming out of a blowout victory and still being mad about a wrong traveling call made in Q2, but it's incidents like these that make MJ stand out as one of the greatest players ever.