Even Stephen Curry and Michael Jordan Couldn't Match "Larger Than Life" Dennis Rodman Despite Their Statistical Prowess, Per Ex-Agent: "It's Like Art"
Published 12/16/2022, 10:00 AM EST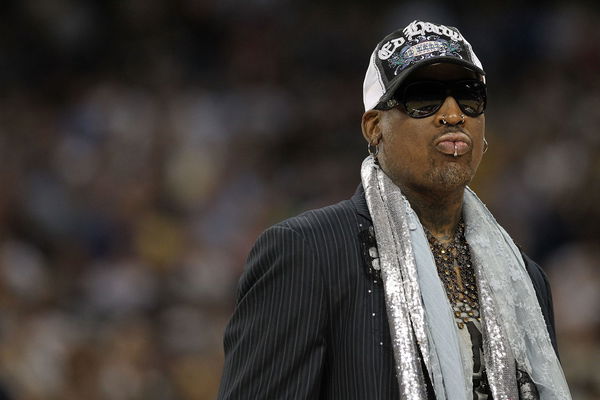 Michael Jordan and Stephen Curry are undisputed all-time greats of the NBA and are credited with changing the game of basketball in their own ways. However, according to a former basketball agent, both Curry and Jordan could match with the 'Larger than life' Dennis Rodman, despite their accomplished stats.
NBA legend Dennis Rodman was a star in the 80 and 90s, and he still remains one of the most puzzling characters in the NBA to date. There is little doubt about his basketball prowess, nevertheless, his off-court exploits have made him a very popular figure.
ADVERTISEMENT
Article continues below this ad
Rodman had what Michael Jordan and Stephen Curry didn't
While a lot of stars had superagents who were very popular, the Worm employed a world-renowned coin collector named Dwight Manley. Nevertheless, he worked tirelessly with Rodman during his historic runs. According to Manley, the 5-time champion had one trait that Michael Jordan or Stephen Curry could not match.
He said," There are few people you come across in the world that are larger than life. Don King, he's one of those types of people. Jesse Jackson is that way. Dennis is that way. It transcends the sport . . . You have to remember, when they were doing this, Saddam Hussein or Kim Jong Un's dad or Gaddafi—they stopped what they were doing. That's a crazy phenomenon."
"You can watch Steph Curry or Michael Jordan do the statistical part of it, the points, right? But Dennis was doing things that they don't have stats for."
ADVERTISEMENT
Article continues below this ad
Rodman's agent did put up a strong point. However, the Worm has had relations with dictators of several countries, something that may be questionable in the eyes of many. He has had very close relations with Kim Jong Un, the supreme leader of North Korea. The Bulls legend reportedly took a basketball team there at the behest of the Supreme Leader. He was also instrumental in setting up the first-ever United States and North America summit.
Rodman's image originated from being a tough, no-nonsense basketball player who was an excellent defender and rebounder. As the years went by, he started showing another side of himself, which has made him so noted.
ADVERTISEMENT
Article continues below this ad
Watch this story- Did Dennis rodman go to Russia to help Brittney Griner?
Despite having many distractions off the court, Rodman made sure he excelled on it when he was called upon. Manley may have a point to make.
Edited By: Jayant Chhabra