'Eyes on the Prize': Clippers' Paul George Takes the Leadership Role in Kawhi Leonard's Absence
Published 08/22/2021, 8:30 AM EDT
---
---
The Clippers ended 2019-20 on a forgetful note but made up for the lackluster show in the playoffs 2021. They bounced back twice from 0-2 deficits and played with immense grit & poise in their first-ever WC finals. 
ADVERTISEMENT
Article continues below this ad
Thanks to the support from his team, Tyronn Lue proved he is one of the best coaches when facing elimination. If not for the unfortunate injury of Kawhi Leonard, the Clippers had their shot at upsetting the Phoenix side. Nevertheless, they still have Paul George to their rescue and he alone carries the potential to drag them to the franchise's debut NBA finals.
ADVERTISEMENT
Article continues below this ad
Paul George in the leadership role
Recently, the Clippers traded Patrick Beverley, Rajon Rondo, & Daniel Oturu to the Grizzlies and acquired Eric Bledsoe. Now, many consider the swap as the Clips Nation's loss. But they fail to realize that the Clippers have saved on their luxury tax and also created an $8.3 million trade-player exception. But yes, in Rondo, they lost a team leader. Did they?
In his latest post, Paul George uploaded 10 photos and showed how he's the crowned leader of the new-age Clippers. He appeared coaching his team and sweating it hard around Terance Mann & Reggie Jackson. 
With CJ McCollum comparing Eric Bledsoe with LeBron James, the Clips already have a leading figure in town. But PG taking over the reins and accepting a greater role can surely add some character to the team.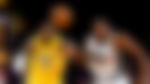 ADVERTISEMENT
Article continues below this ad
When PG single-handedly helped the Clippers
Everyone saw how a teary-eyed Reggie Jackson earlier credited PG for saving his career. But the 6'8″ Batman had many more tasks at hand as he entered the 2020-21 season. Paul George re-established his Playoff P tag in the postseason 2021 where he saved the Clippers a series in the absence of Kawhi Leonard. Apart from Coach Lue's chess moves and a cameo from some starters, it was mostly PG who stood consistent.
The Clippers stunned the table-topping Jazz and PG's 26.9 ppg came as a major help behind that. He almost recorded a double-double every other night and ensured a decent defensive show. Apart from missing out some crucial FTs in the series against the Suns and making some clutch errors, Trece was flawless in his statement performances. 
ADVERTISEMENT
Article continues below this ad
Do you think the Clippers can finally lock an on-court trustworthy leader in Paul George? Help us know in the comments section below.
Watch this story – LA Clippers' Paul George's Incredible Clutch Performance Against Phoenix Suns in Game 5