'F*** Injuries': LeBron James, Ja Morant & Others React to Bucks' Giannis Antetokounmpo's Injury in Game 4 vs Hawks
Published 06/29/2021, 10:15 PM EDT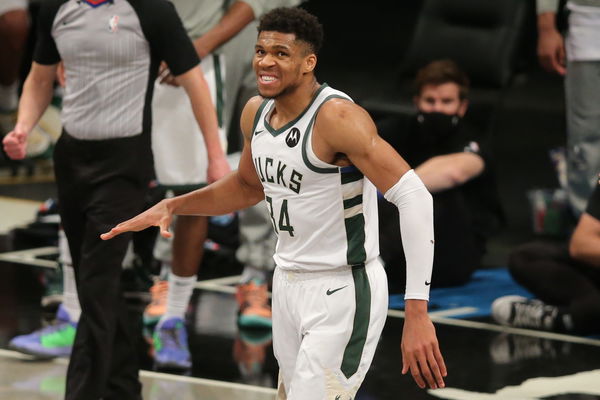 ---
---
The Hawks started off their game against Giannis Antetokounpo led Bucks with a dagger. Thirty seconds into the night, a Kevin Huerter pass went to a wide open Bogdan beyond the arc and found the net. The first five minutes went to the Hawks as they led 15-5 in a brave offensive attempt. 
ADVERTISEMENT
Article continues below this ad
Although it isn't new for the Hawks to pick an early lead, at least not in this series, it was unexpected without Trae Young. Coach Nate McMillan started with former Clipper Lou Williams and that worked pretty well for them. But something else that unexpectedly went their way was an late Giannis injury.
NBA reacted to the Giannis Antetokounmpo scare
ADVERTISEMENT
Article continues below this ad
Giannis was just beginning to find his rhythm with a huge block and an equally massive dunk, when something nasty happened. He went down and the bench helped him off the court with a possible left leg injury. Pat Connaughton replaced him with seven minutes left in Q3 and the Bucks still trailing by 10 points.
The NBA went crazy with the optics of Giannis seemingly in pain and was quick to react. Take a look at what LeBron James and others had to say.
Nooooo not Giannis. SMH!! Injuries have been the story of this season. Hate to see this 🙏🏼

— Jeremy Lin (@JLin7) June 30, 2021
Later, he came back and stood at the sidelines, cutting down the odds of a major injury.
There was absolute and complete silence here at State Farm Arena. Hate to see this. This series and the NBA is better with a healthy Giannis.

Applause as he stands up. Hope to see him okay and back out here

— Taylor Rooks (@TaylorRooks) June 30, 2021
I wouldn't let Giannis back on the court. Get ready for the home game in Milwaukee! Holiday/Middleton gotta step up!!

— Gary Ellerson (@GaryEllerson) June 30, 2021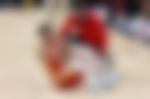 What kept the Hawks in the game?
ADVERTISEMENT
Article continues below this ad
After injuring his ankle in Game 3's third quarter, Trae Young had hinted that it was painful. Later, the scare became real when the team announced that he'd miss Game 4 because of a right foot bone bruise. However, the winner of 2019 6MOY, Lou scored his first seven points in seven minutes to make up for Trae cheering from the stands.
Stunningly enough, the Hawks kept Giannis Antetokounmpo scoreless for the entire Q1, something unheard of. The Freak could attempt just two field goals in his first nine minutes of play. His first points came off a lefty alley-oop on a Khris Middleton lob. In fact, by halftime, no Buck had scored in double digits, further proving why they trailed by 13 points. 
By the end of Q3, the Hawks enjoyed a 25-point lead and it appeared obvious that they were in charge.
ADVERTISEMENT
Article continues below this ad
Watch this story – Giannis Antetokounmpo and His Unreal Transformation Over the Years