"Walk on the Beach With My Shirt Off": Bodybuilding Fan Shaquille O'Neal Was Not Satisfied Only Witnessing Sebastian Vettel's Last Race While Rooting for Lewis Hamilton
Published 11/24/2022, 3:15 PM EST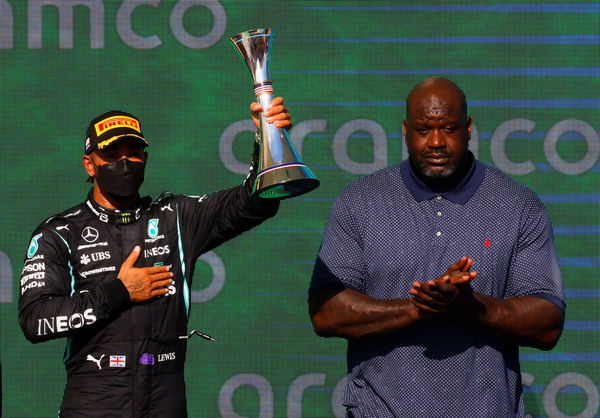 F1 fans saw one of the best modern drivers take the wheel one last time at the Abu Dhabi Grand Prix. Sebastian Vettel raced one last time in the Middle East. A four-time champion, the former Ferrari driver was once the youngest to take the winners podium. His journey was as electric as ever. While his last race might not have been a fairytale ending, Vettel had earned the respect of his peers. The drivers gave the 35-year-old a guard of honor as he walked down the track for one last time. Quiet a crowd gathered to witness the racer in his final showdown. Among them was NBA Hall of Famer, Shaquille O'Neal. But the Big Diesel wasn't satisfied with just the race.
ADVERTISEMENT
Article continues below this ad
As far as F1 drivers go, Shaq rallies behind Lewis Hamilton. The Mercedes driver is highly regarded as the greatest racer of all time. Hamilton has gathered a record seven championships throughout his illustrious career. However, The Big Diesel is yet to witness the 37-year-old breaking the record with his eighth conquest. Unfortunately, Shaq had to watch his favorite racer go out without even completing the race as Max Verstappen dominated once again.
ADVERTISEMENT
Article continues below this ad
However, the four-time champion had other ways to enjoy the Abu Dhabi heat. While speaking on his podcast, Shaq revealed he had fun on the beach showing off his summer body.
Shaquille O'Neal shows off his chiseled look as Lewis Hamilton loses
Shaquille O'Neal checked in with hosts Nischelle Turner and Spice Adams on the new episode of the Big podcast. The Los Angeles Lakers legend spoke about his trip down to Abu Dhabi to witness Sebastian Vettel's final race. Superman got together with other notable personalities such as Ray Lewis, Steve Harvey, and NBA peer, Ron Artest. Despite Hamilton's disappointing end at the Abu Dhabi Grand Pix, Shaq had other plans to make his trip worth it.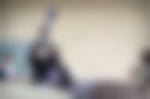 ADVERTISEMENT
Article continues below this ad
The Hall of Famer has worked hard to get back in good shape. And he gave the ladies at the beach a show of his hard work. Notably, the grand occasion of Vettel's finals race wasn't the most fun thing he did during his trip. Shaquille O'Neal revealed, "Walk on the beach with my shirt off and all the people going 'Damn I didn't know you were so sexy boo boo!'"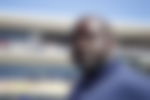 It was last year that Shaq decided to transform his body and get back into Superman shape. Claiming to have 'Charles Barkley Over the Belt Syndrome', the Hall of Famer decided to go through with the change. In an interview with GQ, Shaquille O'Neal revealed he goes through a simple old-man workout. Surprisingly, that has led to him shedding off more than 55lbs.
ADVERTISEMENT
Article continues below this ad
WATCH THIS STORY: Timeline of the Controversial F1 Jewelry Ban Causing Lewis Hamilton to Face-Off With the FIA
The once 400-pound giant now has abs popping out. O'Neal said he hadn't seen such a definition since his 20s. Likewise, looking at his transformed physique, Shaq is chasing more. With his current motivation, it might not be long before we see a muscular version of the 7-foot giant.
Edited By: Bagavathi Eswaran