"Fake Humble": Luka Doncic's NSFW Moment on IG Live Makes NBA Twitter Erupt in Chaos
Published 01/10/2023, 10:50 AM EST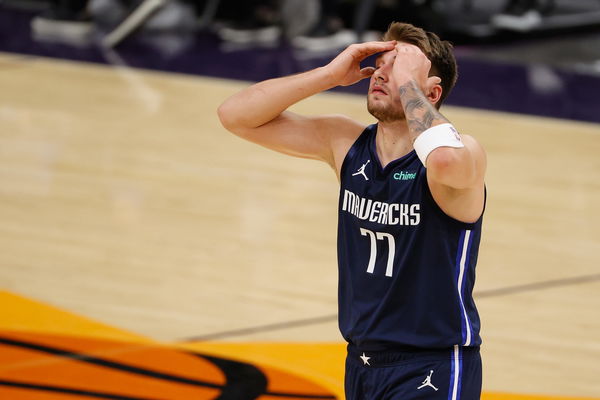 Luka Doncic joined the NBA in 2018 and the Dallas Mavericks superstar soon went on to become one of the best players in the league. In a span of only five seasons, the Slovenian basketball star has broken several league records putting up his name alongside some of the big names in the NBA, such as Michael Jordan. However, even well-established NBA stars like Doncic have their 'Oops' moments from time to time. One such instance happened when the Mavs point guard recently blurted out a swear word during a live session on his Instagram handle. NBA fans didn't take long to flood social media with their hot takes on the matter.
The Dallas Mavericks are one of the top five contending teams in the Western Conference and it is probably safe to say at this point, that most of the credit for that goes to Luka Doncic. The Mavs had a splendid six-game winning streak until the Boston Celtics eventually defeated them recently.
NBA Twitter reacts to Luka Doncic cussing on IG live
ADVERTISEMENT
Article continues below this ad
When you are one of the top prospects for MVP, it is obvious that every move and every word said by you would be put under the microscope. The Internet had a field day when Luka Doncic's IG live abruptly ended with the 3x NBA All-Star blurting out a curse word while trying to figure out how to end the live session. It seemed like Doncic had gone to watch the football match between TCU Horned Frogs and Georgia Bulldogs at SoFi Stadium. The NBA guard then went on a live session on his Instagram account at the game, giving a peek to the fans of his POV.
Doncic was seemingly struggling to figure out a way to end the live stream during which he blurted, "Alright, F*ck this. How do you end this?"
READ  MORE – "Why Is This So Easy for Him": 3x NBA All-Star Luka Doncic Showing Off Non-Basketball Skills Leaves Fans in Disbelief
As expected, the video instantly went viral. NBA fans did not take long before they began to comment on the blunder made by the 2018 EuroLeague MVP. Below are a few of the comments.
I love when my MVPs curse

— Phillies please win the 2023 world series (@phillies2008w) January 10, 2023
He's still mad after the Celtics whooped him

— Tatumgotnext (@Yusukesend) January 10, 2023
That's your MVP of the national basketball association

— 🛸 (@mavburnerr) January 10, 2023
curry wouldn't even know how to start the live😭

— 𝓛𝓛💫 (@HoodiiBron) January 10, 2023
ADVERTISEMENT
Article continues below this ad
Luka Doncic's injury status
Luka Doncic is currently tending to his ankle soreness due to which the Dallas Mavericks superstar had missed the previous game against the Oklahoma City Thunder. Following the disappointing loss by 120-109, Doncic's availability for the Mavs' next game was termed questionable.
ADVERTISEMENT
Article continues below this ad
WATCH THIS STORY: Breaking 35-Year-Old Record, $207 Million Star Luka Doncic Joins Michael Jordan Following Historic NBA Performance
In Doncic's absence, the Mavs' Christian Wood led the team, scoring 27 points, 16 rebounds, and two assists. Teammate Spencer Dinwiddie added 21 points, three rebounds, and eight assists.
Edited By: Satagni Sikder