Fans Destroy Former Lakers Star Nick Young After Isaiah Thomas Slander
Published 08/17/2021, 2:01 AM EDT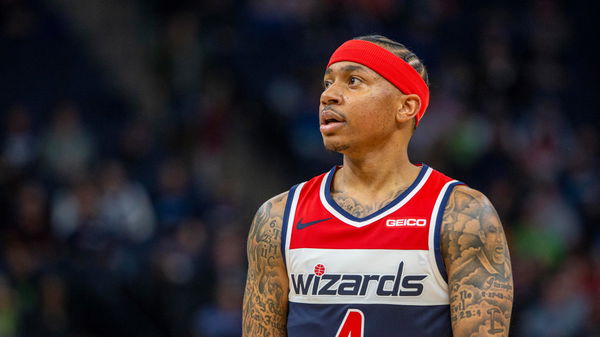 ---
---
Off-season is up and running in the NBA right now. With teams making big money free agent signings and pulling off massive trades, there have been significant changes in the league. While the biggest names are out, there are players like Isaiah Thomas who are eager to make a comeback to the league.
ADVERTISEMENT
Article continues below this ad
Thomas who was a star for the Celtics was one of the best scorers in the league only a couple of seasons ago. If not for his agonizing hip injuries, the 31-year-old would be a mainstay in any team.
ADVERTISEMENT
Article continues below this ad
But the former Celts star recently made a statement in a Pro-AM game. Playing in the Crawsover Pro-AM game in Seattle, IT dropped a whooping 81 points and certainly turned some heads all around the league.
Fans blast Nick Young for targeting Isaiah Thomas
While NBA fans and players like LeBron James rejoiced the performance, the former Celtics star put up, former Lakers' guard Nick Young wasn't the biggest fan of it. After Payton Pritchard put up an absurd 92 points and Mike James put up an amazing 65 points, Young called the shots on Pro-AM leagues.
Young said that the Pro-AM leagues in Portland and Seattle are probably the worst as they let athletes score absurd amount of points. While he directly didn't call out IT, the subtle dig of playing against weaker opposition was pretty evident.
I mean no disrespect but Seattle and Portland gotta have the worst pro am hoops they letting ppl score 92 81 70 50 50 come on y'all stop getting ppl from in front of the liquor store and telling them to come hoop lol

— Nick Young (@NickSwagyPYoung) August 15, 2021
While Pro-AM leagues might feature some amateurs, many NBA players have regularly showed up in these games. The competition might not be comparable to the NBA, but with participants trying to make their mark, these games are pretty competitive.
Fans certainly were having none of it. From blasting the former Lakers' guard for his comments to even trolling him, NBA twitter went all in on Young and his comments.
you do realize everybody in the pro-am is either a pro, college, or highschool prospect right 🤣🤣🤣

— Dame Betta⌚️ (@CampebllKena) August 16, 2021
How many did IT score in Atlanta? Feel free to come on up and see what you could do. You wanna talk then back it up and see how you hold up

— Dawg Family (@Moneyb221) August 16, 2021
You're just mad because Payton Pritchard can get more buckets than you

— Small State Big Takes Podcast (@SmallStateTakes) August 16, 2021
Bro then come down here! You can't even put up numbers in the big 3😂

— SkyMav (@skymav6) August 16, 2021
ADVERTISEMENT
Article continues below this ad
You gonna disrespect Atlanta's pro-am too? IT pulled up and scored 65 there so now what.🤷🏿‍♂️

— kamau (@Aye_JohnBoi) August 16, 2021
ADVERTISEMENT
Article continues below this ad
Dropping 81 points is no easy feat, and Thomas certainly made a statement with his display. Coming off of a hip surgery, the 31-year-old looks in top shape and is showing his quality on the court.
With three slots still open, the Lakers can take a gamble with the former Celtics star. The addition of an extra ball handler and a scorer might not hurt the 17-time champions. Do you think Isaiah Thomas will make his return to the NBA this season?