Fans Grill Ja Morant For Major Stephen Curry Praise After His Finals MVP Conquest
Published 06/18/2022, 2:07 AM EDT
The Golden State Warriors dynasty struck once again winning their 4th title in eight years. However, this time things were much more special for one Stephen Curry. As one of the greatest point guards to play the game, one award had evaded the three-point giant. However, his fourth championship added to his already stacked legacy. Winning his first-ever Finals MVP, the Baby Face Assassin solidified himself as one of the greatest. And a young star has Curry in his Top 5.
Over the years, Steph established himself as arguably the greatest shooter of all time. No matter the distance, Curry was draining shots from all over. In addition, his three rings and 2 MVPs put him in special company.
ADVERTISEMENT
Article continues below this ad
However, there was always a complaint about him not having a Finals MVP. Durant and Andre Iguodala took home the honors in his previous runs. But this time, Curry was willing to do anything.
WATCH THIS STORY – 5 best Memes on Chris Paul Choking Yet Again in the NBA Playoffs
Averaging 31 points, 6 rebounds, and 5 assists per game, Steph took over on the big stage. And his historic capture was enough for Ja Morant to rank him Top 5 on his list.
Ja Morant showers Stephen Curry with huge praise
Taking the battle to the road in Game 6, the Boston crowd was ready to give a rough time to Curry. But despite his shortcomings in Game 5, Steph was as confident as ever. In the series clincher, the former unanimous MVP put up one of his best performances in the Finals. Scoring 34 points, Steph led the way for the Warriors to win their fourth NBA championship in 8 years. In addition, winning the Finals MVP only made things sweeter for Steph.
He added to his long list of accolades with the first-time win. And Ja Morant couldn't skip past him for long. He feels Curry belongs in the Top 5 last after his recent conquest. And fans had their comments.
Dude really put steph above kareem… lmao recency bias real

— Jah (@thepeopleofjah) June 17, 2022
🤣🤣🤣🤣

MJ
LeBron
Bill
Wilt
Magic
Larry
Duncan
Kobe
Kareem
Shaq

Not even top 10!! Steph has 1 finals MVP in 8 attempts

Give yourself a history lessen, young fella https://t.co/7B8rynCpfV

— Andrew (@LittleDogg20) June 18, 2022
ADVERTISEMENT
Article continues below this ad
Steph was already one of the most accomplished players before his Finals MVP win. As the only unanimous MVP in the history of the league, the Chef had no trouble making a dent in the history books. He added to that this season by becoming the all-mighty king of three-pointers. Now, he is among elite company with 4 championships, 2 MVPs, and a Finals MVP.
As the biggest contributor to the three-point revolution, Curry remains to be one of the most influential players of any era. The face of a dynasty and one of the best players to come around, Steph is worthy of all the praise.
ADVERTISEMENT
Article continues below this ad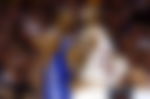 Do you have Stephen Curry in your Top 5? Let us know your views in the comments below.