Fans Roast 25 Year Old Ex-NBA Champion for 'Grade A Tactics' to Force a Move Out Before Trade Deadline: "One of the Worst Kept Secrets.."
Published 01/29/2023, 5:13 AM EST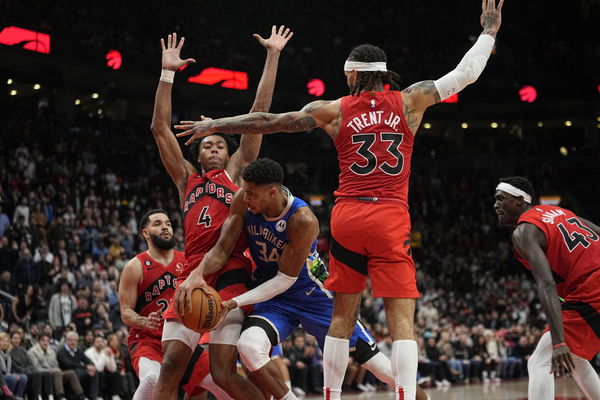 As the trade deadline is around the corner, various sources engulfed the NBA community in rumors and potential trades. Moreover, the league has surpassed the halfway mark for the season, and teams would look to build a suitable roster lineup to turn the tides in their favor. In addition, some players have tried to make their way up to their team of choice with unique strategies.
The Toronto Raptors star OG Anunoby became the focal point after insider information ran its course on social media. The forward played his rookie season for the Raptors in 2017. The British star played all his six seasons for the only Canadian side in the league. Anunoby averages 16.9 points in 45 games this season. He earlier emerged as a trade prospect for the Golden State Warriors after Stephen Curry's injury. Moreover, the current rumor could turn him into a Warriors star.
Twitter-verse roasts former NBA Champion following a rumor
ADVERTISEMENT
Article continues below this ad
NBACentral shared the information sourced from Ric Bucher, a sports analyst. The tweet read, "League sources say that OG Anunoby isn't happy in Toronto, per Ric Bucher." Following the tweet, the fans swarmed the comments with various opinions. Some sections of the fans took a dig at the star with serious claims. One user said, "Grade A tactic to run down trade value." While some fans wanted their favorite franchises to trade him.
Read More – "Trade the Young Players That Suck A**": Stephen Curry Fans Revolt Major Trade Take On Live TV Involving Klay Thompson and Draymond Green
Another user said, "He's wanted out for a while. It's one of the worst kept secrets currently in the league." Following are some reactions from NBA Twitter.
Source: a team that wants to trade for him who is trying to artificially lower his value

— TheCursedCursola (@CursolaCursed) January 28, 2023
Unless Toronto drops their asking price for him though, he's likely not going anywhere.

— Eric Hovland (@EricJHovland) January 28, 2023
A few fans wanted their favorite franchise to trade the Raptors star.
ADVERTISEMENT
Article continues below this ad
Importantly, the fans could expect an OG Anunoby trade before the deadline.
Did Curry's injury prompt trade interest in Anunoby?
Following Stephen Curry's shoulder injury against the Indiana Pacers, an interesting potential trade emerged in the form of Anunoby to fulfill the offense corridor. The potential trade also put the Warriors in a tough spot to give up on stars like James Wiseman and Jonathan Kuminga to trade the British star.
ADVERTISEMENT
Article continues below this ad
Watch This Story – Stephen Curry, Who Spent $8 Million to Avoid San Francisco Traffic, Pulls Back The Check At Last Minute
What do you make of the inside information? Was it a tactic from OG Anunoby? Let us know in the comments below.
Edited By: Jayant Chhabra