'Fascinated by What You Can't Do': Steph Curry Confesses to Wanting to Follow LeBron James' Style of Game
Published 04/23/2021, 1:56 AM EDT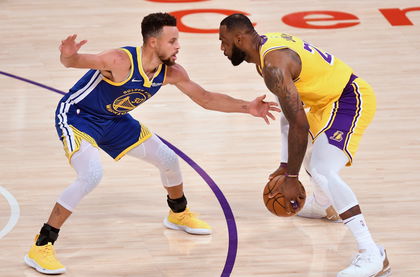 ---
---
The Golden State Warriors might be struggling to be a playoff team, but they could have been worse off if not for talisman Steph Curry. The 33-year-old has been the most crucial player for the Dubs' offense and has kept the team afloat in the play-in spots.
ADVERTISEMENT
Article continues below this ad
Currently, Steph is having one of his best seasons in the league, averaging 31.1 points, 5.9 assists and 5.5 rebounds per game. He is coming off of one of the best ten game stretches the league has ever seen, averaging 39.0 points, 5.8 rebounds and 4.9 assists per game.
His impeccable form has made him one of the front-runners for becoming the MVP of the league. If he can maintain his impressive numbers, Curry just might win his third MVP trophy.
ADVERTISEMENT
Article continues below this ad
Steph Curry opens up admiration to LeBron James' play style
Traditionally, the league hadn't seen multiple shooters being franchise cornerstones in the league. Only a handful of players like Ray Allen and Reggie Miller were talismans in their respective teams but couldn't win a title.
In a time where physical specimens like LeBron James and Dwight Howard dominated the game, the Dubs took a chance on a 22-year-old shooter in Curry. The gamble worked out pretty well, to say the least, with the Dubs reaching five straight finals and winning three championships.
Curry recently made an appearance at the Rex Chapman Show. There, the 33-year-old had a great advice for young players.
"The biggest piece for a young kid is playing the game is to be comfortable with who you are as a basketball player. I had some temptations of like, I wish I could just dunk, I wish I could just drive down the lane, and you always get fascinated by what you can't do."
ADVERTISEMENT
Article continues below this ad
Steph also spoke about the admiration he had for LeBron James' physical prowess. "You always kind of just like see LeBron, you're like, 'I wish I could do some stuff he can do physically.' And you can get wrapped up in and distracted by that. But at the end of the day like I am my own type of basketball player and gotta do what I can to be successful."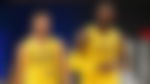 It's safe to say that Curry has had a splendid career in the league. Despite playing in a league dominated by physicality, Steph has certainly changed the game with his lights out shooting.
ADVERTISEMENT
Article continues below this ad
Considering he is still in his absolute prime, Steph can still add some more laurels to his already illustrious career. Do you think Steph Curry will win the MVP trophy this season?