'Fear The Deer': Sheryl Crow, De'Andre Hunter & Others React to Milwaukee Bucks Making Their Way to NBA Finals
Published 07/03/2021, 11:38 PM EDT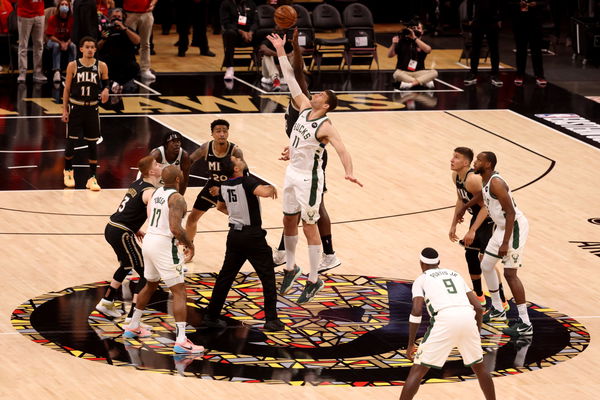 ---
---
After losing Game 5 of the Western Conference Finals against the Milwaukee Bucks, the Atlanta Hawks found themselves in a do-or-die situation. Entering Game 6, their motto should have been 'Go big or go home'. And even though they tried to abide by it, the Bucks' momentum was too tough to break. So, by winning Game 6, Milwaukee made its way to the NBA Finals for the first time since 1974.
ADVERTISEMENT
Article continues below this ad
Trae Young couldn't pull off a miracle
Game 5 was as unexpected as it can get. Without Hawks' Trae Young and Bucks' Giannis Antetokounmpo, the victory could have gone either way. But with Brook Lopez stepping up and putting up a 33-point performance, it was enough for Milwaukee to gain a 3-2 lead with a 123-112 win.
ADVERTISEMENT
Article continues below this ad
With all their hard work this season on the line, the Atlanta Hawks had to bring back their superstar Young to save them from getting eliminated and tying the series again in Game 6.
However, still recovering from his bone bruise, Trae Young looked nothing like himself throughout the game.
Giannis was listed officially out for Game 6, and after Game 5, Bucks fans were less worried about his absence. In fact, keeping him well-rested before the NBA Finals was the best choice they made. The rest of the players, especially Khris Middleton, came up big, and Game 6 was over with 118-107. Here's how NBA Twitter reacted to this.
The Bucks just got to the NBA Finals by winning Games 5 and 6 without Giannis. Hmmm.

— Skip Bayless (@RealSkipBayless) July 4, 2021
Cam Reddish will be a star one day..

— 🏁 Jamal Crawford (@JCrossover) July 4, 2021
I'll keep it short and to the point but whether home on on the road, Batman is gonna do what he does and Khris Middleton AKA Bruce Wayne handled his business!!! See you in the finals, carry the hell on…

— Kendrick Perkins (@KendrickPerkins) July 4, 2021
We'll be back next year 💯

— De'Andre Hunter (@DreHunter) July 4, 2021
The Playoffs make stars. That's one of the many reasons why winning is Everything.

— Austin Rivers (@AustinRivers25) July 4, 2021
Brook Lopez in the NBA finals!!!!! Hell yea!!

— Quincy Pondexter (@QuincyPondexter) July 4, 2021
WATCH THIS STORY: Tom Thibodeau, Monty Williams & Other NBA Coaches That Made a Big Difference to Their Franchise in 2020-21
Third quarter was a game-changer for the Milwaukee Bucks
The Bucks started off well by getting an 11-4 lead and looked determined to put an end to the series tonight. Like their last game, they succeeded in the paint, which helped them put up a double-digit lead in the first quarter itself.
Their biggest pro was getting great production from the bench as well. Both Pat Connaughton and Jeff Teague finished the night with 13 and 11 points, respectively.
The Hawks made an effort to keep things in reach and had Cam Reddish and Bogdan Bogdanovic dropping buckets. But that wasn't enough to keep up with the Bucks.
Then came the third quarter which only starred Khris Middleton. Under 4 minutes, he poured in 16 points, and the Bucks added 44 of their points in this crucial quarter.
ADVERTISEMENT
Article continues below this ad
He ended the night with 32 points under his name, along with Jrue Holiday's 27 points. Even though they slipped a little in the fourth, their big lead helped them get past the finish line with a win.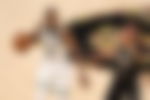 Now, the Bucks will be facing the Phoenix Suns in the NBA Finals. While both teams have just gotten out of tough battles, looks like it's finally time for war.
ADVERTISEMENT
Article continues below this ad