'Felt Bad for Him': Former Teammate of Kwame Brown Reveals How Wizards Coach Blamed Him to Protect Michael Jordan
Published 05/31/2021, 5:30 AM EDT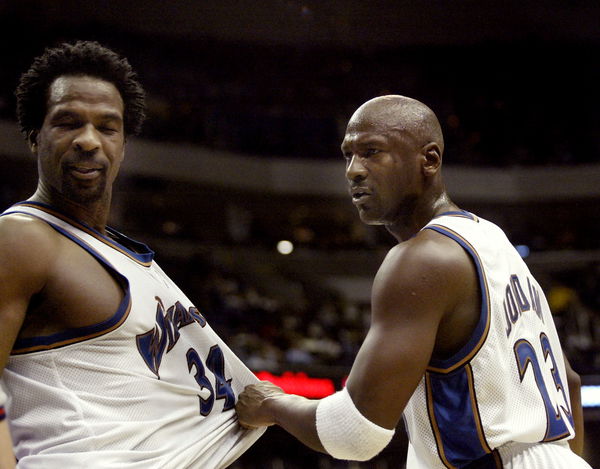 ---
---
Where there is Michael Jordan, controversies and stardom follow. The Last Dance perfectly portrayed how his off-court addictions threw him in deep waters. However, the one thing that his documentary did not cover was his time with the Washington Wizards and all the disputes that followed.
ADVERTISEMENT
Article continues below this ad
Back in 2001, the Wizards, headed by Michael Jordan, picked Kwame Brown as their #1 draft pick. Now, for anyone, a #1 pick would mean a life-transforming event for good, but Kwame was not that fortunate. In fact, that honor for a high schooler soon turned into his greatest curse as things started to fall apart.
Michael Jordan, Kwame Brown, and those years of controversy
ADVERTISEMENT
Article continues below this ad
Kwame Brown had a very rough rookie year where he started the game only thrice in 57 games. Playing under the shadow of Michael Jordan, the rookie could average just 4.5 points in the 14.3 minutes that his coach allowed him. Soon, the media that loved him in June started to call him a bust by December 2001. But was he actually that bad?
Recently, one of his Wizards teammates, center-forward Etan Thomas, gave an interview where he revealed something unsettling about the team culture. He expressed, "The person who I really felt bad for was Kwame. When he came into the league, he was the best person in the draft, hands down it wasn't close. I saw it with my own two eyes, they brought in all the top big men, right. This is right at the Verizon Center… he went against Tyson Chandler, he went against Eddy Curry and he destroyed all of them, like it wasn't even close. And coming there, and having the pressure of playing next to MJ and really Doug Collins."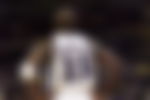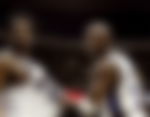 How was Doug Collins as a person?
In a 2017 interview, Kwame Brown had himself revealed how Doug Collins was a great basketball mind with a knack for devising amazing plays. However, he had also claimed that Doug was a micromanager, a person who would turn teammates against teammates to give his intentions a shape. 
ADVERTISEMENT
Article continues below this ad
In fact, Etan's words later in the interview also reflected the same as he added, "Kwame won't say it now, but I can say it coz I was there. Doug Collins, it was almost like he had a personal vendetta against Kwame. Like I would text him after sometimes like, are you alright man? I don't know why he's going at you so much. Like he wanted to almost take his confidence. But it was really, if things didn't go right, he wanted to blame somebody and not blame MJ, that's what I think. So, Kwame got all the blame. It was messed up. Playing with MJ, Kwame would watch MJ, watch his habits, watch the things that he's doing… But with Doug Collins in that situation, I really felt bad for him."
It's strange how this mismanagement stayed below the radar for more than a decade. Maybe, Kwame was just a talent that got wasted because somebody wanted to save someone's brand. Or is it not that way? Help us know your opinion in the comments.
ADVERTISEMENT
Article continues below this ad
Watch this story – Scottie Pippen, Dennis Rodman, and Other Teammates Michael Jordan Was Lucky to Have