'Felt Very Uncomfortable': Pelicans' Brandon Ingram Reflects on His Time at LA Lakers
Published 12/29/2020, 5:00 AM EST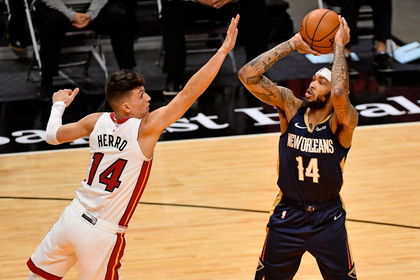 ---
---
Brandon Ingram showed last season that he is one of the best young players in the NBA. The second-overall pick in the 2016 NBA Draft had his first season with the New Orleans Pelicans last year. He played some excellent basketball, and for his performances, became an All-Star for the first time in his career.
ADVERTISEMENT
Article continues below this ad
But his time in the NBA was not always easy. His first stint with the Los Angeles Lakers was unremarkable, and he went to the Pelicans in a trade to bring Anthony Davis to the Staples Center. But he found his legs with the Pelicans and made an exciting young core with Zion Williamson and Lonzo Ball.
Brandon Ingram is finally feeling secure
ADVERTISEMENT
Article continues below this ad
Ingram spoke to his teammate JJ Reddick for his podcast. On the subject of his time with the Pelicans, Ingram said he is the most comfortable he has been since entering the NBA.
He said,  "Actually this year was the most comfortable I felt in the league. Because I experienced a lot of things in the league about what to do and what not to do. And how certain things make me feel when I wake up in the morning, if I get this amount of sleep at night, how I feel in the morning."
"Just these things so, I think the experience over the past 3-4 years have helped me prepare for today. And this is the most comfortable and confident I have felt at this point."
Rough life in Los Angeles for Ingram
Things were not always rosy for Ingram. He opened up about the challenges he faced when he entered the league as a Los Angeles Lakers player. For him, the exposure made him very uncomfortable in Tinsel Town.
"I definitely felt very uncomfortable. It was different. I didn't know what I stepping into last year. It was kind of like the world came when you were going to the Lakers. My social media started blowing up. So I was into social media, but then I had to step into reality." 
He further added, "I go into my first game, everybody knows who I am around. It was just totally different. Just when it is Laker love. You know you can get soaked up into the game of basketball or you can get soaked up into everything else that is around it in Los Angeles. It was important for me to just focus on basketball." 
ADVERTISEMENT
Article continues below this ad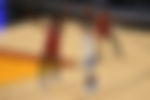 For Ingram, he believes that he had to become a sponge to survive the hectic life of a Laker. He looked to everyone in his vicinity for advice and guidance about how to maneuver the waters at the Staples Center "I've been in a place where, in my rookie year I was like 'I don't know what day it is, what is going on'. When I'm in the game, I'm tired, it has been three minutes, the speed is different.
"So my rookie year, I had to be like a sponge. So even everything that is going wrong in LA, how the cameras are, everything, and just really dial in. Take advice from everybody and try to be a sponge (during) my rookie year. So it was tough."
ADVERTISEMENT
Article continues below this ad
Despite the rough start to his NBA Career, Ingram has stepped up and become one of the top players in the NBA. He will hope to continue his ascension this year and perhaps lead the Pelicans to the NBA playoffs.