Female Warriors Fan Loses Control of Emotions Due to Jordan Poole and Fans Are Having a Field Day
Published 01/01/2023, 5:14 AM EST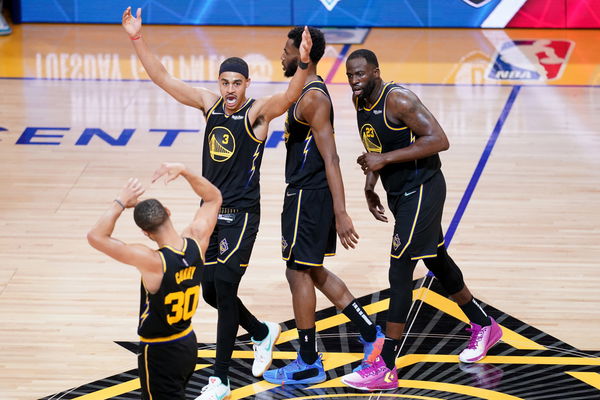 Golden States Warriors guard Jordan Poole has been a sensation ever since his career-best score of 43 against the Toronto Raptors. Many fans claim that the young Poole could rise to the ranks of Stephen Curry. Moreover, fans are happy about Poole's future with the Warriors, as they see a promising prospect in the making. Meanwhile, the star guard impressed the fans with another 40-pointer against the Portland Trail Blazers. But, one female fan's reaction caught the attention of the online world.
In the absence of Curry, the Dubs camp had the likes of Poole, Clay Thompson, and Draymond Green on the court. Chef Curry is expected to return to the hardwood after an injury reevaluation, as per the latest official announcement.
Jordan Poole pleases the Warriors' crowd
ADVERTISEMENT
Article continues below this ad
The Friday night contest between the Dubs and the Trail Blazers came in as a treat for the fans as the game went down to the wire. But, the brilliance of the Warriors paid off in the end. However, one fan's reaction to Jordan Poole's prowess sparked the NBA world. During the fourth quarter, the Trail Blazers had a comfortable lead with less than four minutes left in the game. That's when Poole ran down the lane against two Rip City defenses to drop a bucket. That imposing point from Poole impressed a female fan in the crowd. The fan seemed visibly stunned by Jordan's drop. NBA Twitter quickly swarmed in with hilarious reactions.
Moreover, according to a Ballislife.com tweet, the Dubs coach Steve Kerr said, "I'm so excited about Jordan because he has another level he can reach. There's no question."
While most of the fans were impressed with Poole, a lot of fans criticized that he seemingly traveled with the ball.
Here are some of the reactions from NBA Twitter:
Looks like Jordan is having his way on and off the court.

— Alton Crawf (@AltonCrawf) January 1, 2023
Remember when Jordan Poole seen a baddie sitting in the 30th row and turned to 2008 Rajon Rondo

— Terray2K🛄 (@Terray2K) December 31, 2022
ADVERTISEMENT
Article continues below this ad
The Warriors indeed had a miraculous finish to the year as the Dubs' defense did the trick. The Warriors' defense held the Trail Blazers at one end, while the Warriors' offense took the lead in the last few minutes. Poole and Klay Thompson pitched in with 41 and 31 points respectively to win 118-112 in the end.
Watch This Story – Highest Paid Players on Stephen Curry's Warriors After Latest Contract Extensions for Jordan Poole and Andrew Wiggins
ADVERTISEMENT
Article continues below this ad
The Warriors have several home games on their lineup next, and if they capitalize on the advantage, the Warriors could move up in the Western Conference table.
What did you make of Poole's play and the fan's reaction? Let us know your thoughts in the comments below.