Fight Over LeBron James Breaks Out Online as 41YO Former NBA Star Slams NFL Legend for Scathing Take: "Your Love Affair…"
Published 05/26/2023, 5:30 AM EDT

Follow Us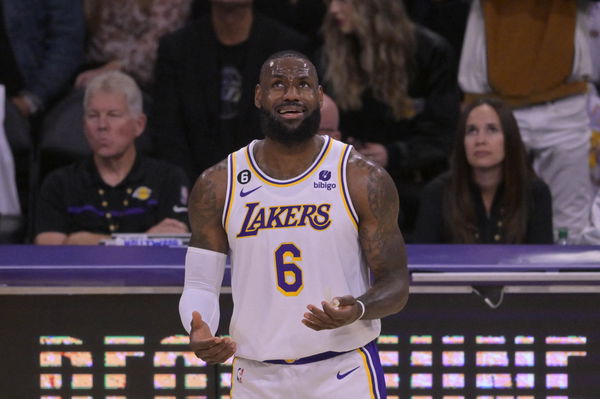 The wounds of the Los Angeles Lakers are still fresh. Only days ago, LeBron James and Co got swept in the Conference Finals series against the Denver Nuggets. It all boiled down to one last tired attempt from The King to save the series. Unfortunately for LA, Denver played his drive to near perfection. However, despite James' strong will to take the last shot, former number-one pick Kwame Brown blasted away at him. In response, a long-time supporter fired back at Brown.
Now, it has come down to a war of words between the two. Responding to the criticism, the former Washington Wizards player let loose on the NFL legend.
Shannon Sharpe and Kwame Brown butt heads over LeBron James
ADVERTISEMENT
Article continues below this ad
Brown was extremely critical of James' Game 4 game-winning attempt. He went back to his strongest suit, the drive. Yet outstanding help defense by Jamal Murray allowed Aaron Gordon to swat the shot away. Sitting in front of his phone camera, Kwame Brown unleashed on James, even saying his being in the GOAT conversation is "b******t" and insinuating that he is a 'flopper'.
"Throughout history, the little nerds are gonna look up your statline and say 'He's gotta be the greatest player to ever play the game'. And people who actually play are gonna know that is bulls**t"

Kwame Brown calls out LeBron James 😳pic.twitter.com/FlXVFQUNNh

— ClutchPoints (@ClutchPointsApp) May 24, 2023
The viral clip would soon reach Undisputed, where Shannon Sharpe was ready, and he had some shots to fire.
"Of all the people, he should never ever question anybody's greatness. Because this is what we know. If there is a mount Rushmore for busts in NBA history whether he is a first head, the second head, the third, or the fourth, he is on mount Rushmore of bust NBA players. There is no question," ranted Sharpe in defense of LeBron James.
Watch this story: "LeBron James' wife Savannah confesses 7-year-old daughter Zhuri scared her with personal confession"
The three-time Super Bowl champion while calling the former number one pick a 'joke' even said Brown "became nothing of what you were supposed to be."
His outburst wasn't going to come without a response. And as expected, Kwame Brown sure replied. He called Sharpe a 'guest' when it comes to basketball talk. Not only that but going off the emotional claims, he brought up Sharpe's altercation with the entire Memphis Grizzlies team.
KWAME BROWN: "You call me emotional. You were going to fight a whole team b/c of your love affair with LeBron. You the reason Ja probably carrying guns right now. Ja was like 'Oh s***, a big a** N in a Grandmama sweater trying to fight his Daddy & team.'" pic.twitter.com/o5rwfRiKuL https://t.co/477S04QNhu

— Ballislife.com (@Ballislife) May 25, 2023
ADVERTISEMENT
Article continues below this ad
"You call me emotional, and you were going to fight a whole goddamn Memphis Grizzlies team because of your love affair with LeBron. You the reason why Ja Morant probably carrying guns right now," Kwame Brown's voice and outrageous claims only escalated throughout the response. He even called Sharpe a 'Big, tall, thick tongue, punk m**********r'. 
The Denver Broncos legend is yet to respond to Brown's attack. It will surely be a topic of discussion on Undisputed. Fans can prepare for a classic Shannon Sharpe response involving his quirky humor and unforgiving digs.
ADVERTISEMENT
Article continues below this ad
Do you think Brown overstepped with his criticism of LeBron James? Let us know what you feel in the comments below.