Flamboyant NBA Legend Dennis Rodman's NSFW Plans Didn't Sit Well With Michael Jordan in 1997: "I Don't Infringe on Him"
Published 11/19/2022, 7:50 AM EST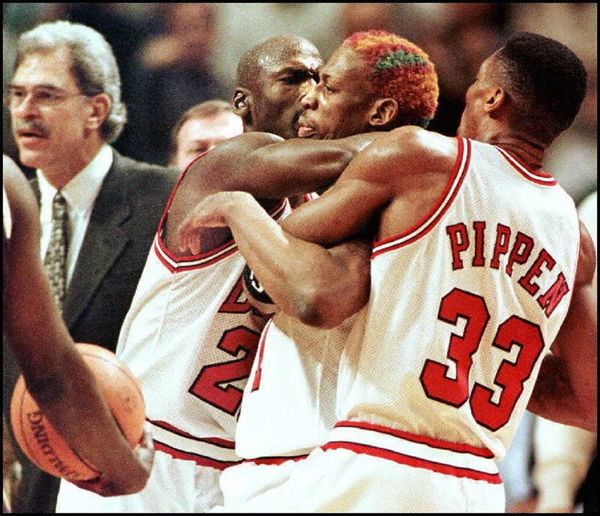 There were some things that Chicago Bulls legend Michael Jordan learned over the years. He may have been talented and gifted with supreme abilities but even MJ had to learn some things along the way during his career. One of them was being a team player instead of a solo show. And another thing was letting Dennis Rodman do his thing. Both things only ended up benefiting Jordan.
Dennis Rodman sure was the flamboyant type. Before Rodman joined the Bulls, he had spent the majority of his career in Detroit, as part of the 'Bad Boy' Pistons. Not only did Rodman win two championships with the team, but he also carried that bad-boy persona with him to the Bulls.
ADVERTISEMENT
Article continues below this ad
Michael Jordan about Dennis Rodman in 1997
Michael Jordan once spoke about his views on Rodman's attire and persona while talking to Kevin Cook in an interview. Cook asked MJ whether Rodman was a Chanel guy or not. And Jordan made sure to be open about it.
He said, "Dennis is totally different. I never question his attire or his hygiene. I don't infringe on him. He has ways of expressing himself that I don't agree with, but that's Dennis, and we let it go."
However, there was something about Rodman's plans that did not sit well with Jordan. His Airness mentioned, "I would be opposed to seeing him in makeup or a dress on the basketball court. And as far as him playing naked, I just hope I'm not on the court."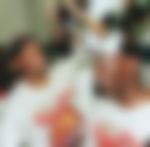 Phil Jackson played a huge role in making Jordan play team basketball and in handling Dennis Rodman as well. And since Jordan was the team's leader, it was important for Phil and MJ to be on the same page.
ADVERTISEMENT
Article continues below this ad
Rodman was a free spirit. His multiple piercings, hair dye, and bold fashion choices were only on the surface. However, Phil Jackson and Michael Jordan realized that whatever Rodman did off the court, it never affected his on-court performance.
Watch This Story – Scottie Pippen, Dennis Rodman, and other teammates Michael Jordan was lucky to have
ADVERTISEMENT
Article continues below this ad
And that is the reason they never gave The Worm a hard time. In fact, there wouldn't have been any other player in the league who would've been given 48 hours for a Vegas trip. Especially in the midst of the NBA finals.
Also, even when Rodman failed to show up at the agreed-upon time, neither Jordan nor Phil Jackson grilled him about it. That just goes to show the amount of freedom Rodman had during his time with the Chicago Bulls.
Edited By: Bagavathi Eswaran