Former Bulls Teammate Gives a Glimpse of How Obsessed Fans Were With Michael Jordan
Published 03/19/2021, 12:18 AM EDT ---
---
Michael Jordan might be the greatest basketball player of all time. Be it his incredible performances on-court or his impeccable personality off it, MJ was certainly a fan favorite.
ADVERTISEMENT
Article continues below this ad
However, being one of the best to ever play the game has its pros and cons. While you instantly become one of the most beloved athletes ever, you also attract a lot of media attention and fans eagerly waiting to pounce on you for autographs.
Former teammate shares weird Michael Jordan fan story
ADVERTISEMENT
Article continues below this ad
Basketball fans all around the world absolutely adore Michael Jordan. Always welcome to sign autographs and take pictures, no wonder that Jordan was a fan favorite.
Unfortunately, some fans forget the line between appreciation and intrusion. Former Bulls' center, Will Perdue, in a recent appearance at the Bulls Talk podcast, opened up about one of the weirdest fan interactions Jordan had.
Perdue said, "One of the funniest things, we're flying somewhere, get to where ever we're going and we get off the plane. As all men know, you get off the plane and first thing you do is bee line it to the bathroom.
"We all come running in and everyone is standing at the urinals and Michael walks in and (sighs). So then he's got to go into a stall, right, and closes the door.
"So obviously this guy thinks that well he's going to be in there for a while, sticks a piece of paper and pen sticks it up under the door and goes 'hey man, you're gonna be in there for a while do you mind signing this?' And of course now we're all sitting there with our heads turned. We're like, you gotta be kidding me."
Jordan reveals what he loves about fan interactions
Jordan absolutely loved fan interactions. Be it Bulls fans cheering him on or rival teams' fans booing him, MJ loved it all. According to Basketball Network's Will Starjacki, Jordan, in one of his older interviews, opened up about why he loved fan interactions.
ADVERTISEMENT
Article continues below this ad
"I think the fans should be involved in it. They are here to see the game, they are here to see the entertainment, and if you don't talk to them, it seems you are isolated from them. I like talking back to them."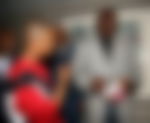 "Magic does it, and it's a part of the game. It shows you are enjoying the game so much you don't feel the game is such a business that you don't talk to people and show how much you love the game."
ADVERTISEMENT
Article continues below this ad
The NBA hasn't been the same since the pandemic as fans have been forced to stay home. However, some arenas have started allowing fans, which is surely a welcome sight for everyone. Let's hope that we can again feel the magic of a packed NBA crowd sometime in the near future.