Former DPOY Gary Payton Believes He Could Have Stopped Michael Jordan in 1996 NBA Finals
Published 04/19/2021, 10:00 AM EDT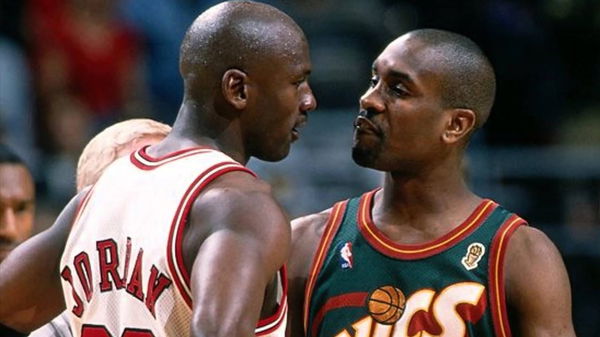 ---
---
Michael Jordan's comeback in 1996 was the biggest sports story that year. After winning three NBA championships from 1991 to 1993, Jordan announced that he would call time on his career. Jordan wanted to pursue a career in baseball, the other sport he had played. However, a failed stint in baseball sparked a return to basketball. His first full season back with the Bulls saw him win the NBA championship after a spectacular 72-win season with the Bulls.
ADVERTISEMENT
Article continues below this ad
Gary Payton not allowed to guard Michael Jordan
MJ's finals opponent thinks he could have stopped him. Former NBA Defensive Player of the Year, Gary Payton, spoke to NBA insider Brandon 'Scoop B' Robinson in an interview. Payton believes that he and the Seattle Supersonics had a strong chance to beat Michael Jordan and the Chicago Bulls. But he was not allowed to guard Jordan, because of an injury that he was playing with at the time. That decision cost the Sonics the series, according to Payton.
ADVERTISEMENT
Article continues below this ad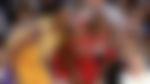 Payton said, "I think we needed a little bit more of a different planning… We had all the players to play with them. We matched up with them very well. During the regular season, they won 72 games, we won 65. We were only seven games behind. Then in the regular season, they beat us in Chicago, we beat them in Seattle… When we come and get into the playoffs, and it's a championship, I was hurt and didn't nobody know it. So we made a decision not for me to guard him."
'The Glove' wanted to guard MJ
Payton noted that he was the reigning Defensive Player of the Year for the season, while Michael Jordan was the MVP. So the hype around the meeting between the two was real, with several media outlets wondering who would win. But Payton didn't get the chance to guard Michael Jordan until game four, and by then it was too late.
Payton said, "I was just coming off winning the NBA Defensive Player of the Year, first point guard to ever do it. Then all of a sudden, Jordan had got MVP. So Sports Illustrated put me on the cover of it – Mission Impossible, can I do it? All of a sudden, they were putting the best defensive player in the NBA versus the best offensive player. I couldn't guard him until game four. And I said forget this injury, we're down 3-0, let's try."
ADVERTISEMENT
Article continues below this ad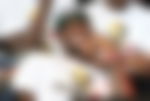 Payton added that he should have been allowed to guard Jordan from the get-go, and that could have changed the outcome. He said, "We just didn't plan it right. I think we should have let me go against him from day one. We had enough offense to deal with him… I think it would have been different if I would have started off on him."
ADVERTISEMENT
Article continues below this ad
Could Gary Payton have stopped Michael Jordan in the Finals? Perhaps taking on Mike after his baseball stint would have given Payton all the ammo for their trash-talking duels during the finals. But this scenario is one fans will have to imagine an end to.