Former Golden State Warriors Star Reveals Major Altercation in Locker Room Involving Kelly Oubre Jr.
Published 04/05/2021, 2:30 PM EDT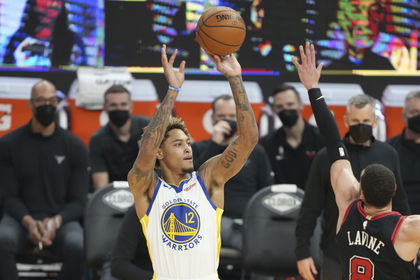 ---
---
The Golden State Warriors are in dire straits at the moment. The team has lost the last seven of its eight games and seriously needs to get back to winning ways. While Steph Curry has been brilliant, new signings like Kelly Oubre Jr. haven't fired big yet. In fact, there is an interesting locker room story about Oubre that would captivate any NBA fan! 
ADVERTISEMENT
Article continues below this ad
2005 NBA Draft's #1 pick Andrew Bogut played five seasons with the Golden State Warriors, but he's no longer a part of the Dubs' roster. Although Bogut is no longer affiliated with the Warriors, he still receives behind-the-scenes news from his confidants! 
On a recent episode of his podcast 'Rogue Bogues,' Bogut narrated an incident that took place in the Warriors' locker room before the trade deadline. Apparently, the Dubs snubbed trade offers for Kelly Oubre in hopes that he will return to the team next season. 
ADVERTISEMENT
Article continues below this ad
However, the 25-year-old swingman delivered a different answer when ask about his loyalty to the team. "He was asked if he'd come back next season, with the Warriors, he basically was pretty nonchalant like 'I can't predict the future, only god can,' all that kind of stuff," Bogut mentioned. 
Golden State Warriors players were livid with Kelly Oubre Jr.
Kelly Oubre received a direct question, but he fumbled the response. However, the management posed it differently and sought a clear reply from him. They asked Oubre if he'd be satisfied in shifting to a bench role if Klay Thompson returned next season. 
The 25-year-old was unhappy with the offer and made it known that he saw himself as a first-team player. Andrew Bogut learned that Oubre asserted that he's "more than a bench player and wouldn't come off the bench." 
This response agitated a few Golden State Warriors players who were present in the locker room. They were frustrated with Oubre's response and one anonymous player allegedly said: "Andre Iguodala a Finals MVP, was okay with coming off the bench, but we have Kelly moth******ing Oubre who won't." 
ADVERTISEMENT
Article continues below this ad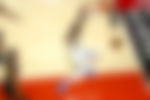 This was indeed a harsh response from Oubre's teammate. "That was not directed behind his back that was to his face," Bogut further added. The 25-year-old Louisiana native would've definitely felt the heat right at that moment. 
Andrew Bogut concluded the story by mentioning that he likes Oubre's self-confidence. But the former Warrior also condemned Oubre's actions as the Dubs have won championships in the past and that he should adjust in accordance to what the team wants! 
ADVERTISEMENT
Article continues below this ad
Read Also: Why Steph Curry Turned Down Space Jam 2 Role with LeBron James