Former Heat Teammate Reveals The Truth Behind Giving Up The Number 6 Jersey For LeBron James
Published 04/25/2021, 12:40 AM EDT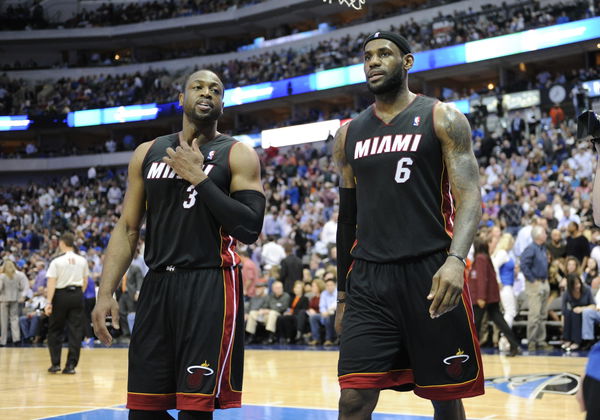 ---
---
LeBron James has played in some of the best teams the league has ever seen. But arguably the greatest team LeBron has ever played in was the big three in Miami with Dwyane Wade and Chris Bosh.
ADVERTISEMENT
Article continues below this ad
After struggling for years with the Cavaliers, King James knew he ought to have a better supporting cast around him. Playing alongside two All-Stars, the Heat reached four NBA finals winning two championships in a row.
Mario Chalmers reveals truth behind giving up jersey for LeBron James
ADVERTISEMENT
Article continues below this ad
LeBron James might have donned the number 23 for many years now, but historically, LBJ had changed his iconic number 23 for number 6 once he joined the Heat.
But before him wearing the number 6 jersey, it was Heat sharpshooter Mario Chalmers. Chalmers, who was an integral member in the Heat championship run, spoke about the jersey number change in a recent appearance at the James Posey podcast.
"When I got to Miami, Mark Blount was wearing number 15. So, Mark Blount's last year was my second year. 2009-10 was his last season with the Heat. Bron was coming in 2011."
He added, "Mark said he was not coming back, like Mark was going through some things, he wasn't there, so I had told, I want 15 next year. So I was already going to number 15 before there was even any talk of Bron coming to Miami."
Chalmers later revealed that LeBron even compensated him for taking the number 6. "But Bron gave me something for the number…. A nice little duffle bag, some pocket change, so nice little friend, so he took care of me. It wasn't like he took the number, I was taking number 15. But it's Pat Riley, Bron was getting six if he wanted six."
While Bron continues to dominate the league, Chalmers has gone on a different path all-together. The 34-year-old now plays for one of the most successful teams in the Aris B.C.
Chalmers' most memorable performance with the Heat
ADVERTISEMENT
Article continues below this ad
Although Mario Chalmers was a decent player, with the big three in his team, the knockdown shooter was rarely able to showcase his talents at the highest level.
But he did occasionally show glimpses of star potential in the league. Playing against a young OKC Thunder team in the NBA finals, Chalmers had one of his best games.
ADVERTISEMENT
Article continues below this ad
In game 4, the Heat were looking to increase their lead to 3-1. While LeBron and Wade did score 26 and 25 points, respectively. But the unexpected hero was Chalmers.
The then 25-year-old was all guns blazing and was in red-hot form as he scored 25 points leading the game 104-98. Till date, it remains one of the best games Chalmers has ever played in the game.