Former NBA All-Star Dismisses Michael Jordan's Take on Gary Payton in The Last Dance
Published 12/23/2020, 7:58 AM EST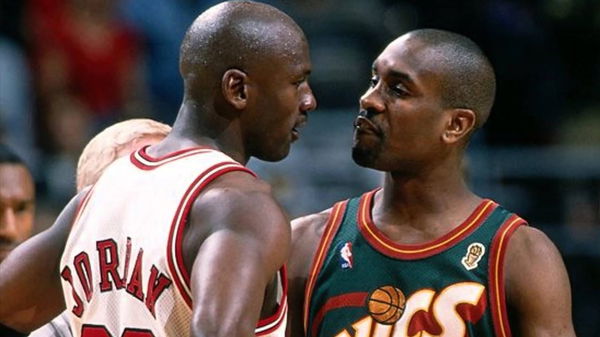 ---
---
Michael Jordan is inarguably the GOAT of basketball. In his 15-year career, he broke multiple records and was one of the fiercest leaders in the NBA.
ADVERTISEMENT
Article continues below this ad
MJ's popularity skyrocketed last year with the release of his 10-episode documentary series, 'The Last Dance.' In the eighth episode of the series, one of the best defensive point guards in the NBA, Gary Payton, claimed that the outcome of the 1996 Finals could have been different had he guarded Jordan from the start of the series.
Jordan later shrugged off 'The Glove', saying he did not have any problems in dealing with Payton's defensive efforts against him. This surely raised some debates about how dismissive MJ was.
ADVERTISEMENT
Article continues below this ad
Payton's ex- teammate claims the glove 'rattled' Michael Jordan
Seattle Supersonics legend and 6-time All-Star Shawn Kemp recently made an appearance in Mikey Domagala's Inside Buzz. When asked about MJ's comments on fellow teammate Payton, Kemp made a bold claim.
He said, "I love Michael Jordan. I'm appreciative of playing against him seriously. Well, I watched the Last Dance obviously that documentary was meant for Michael.
"He said that Gary wasn't giving him good defense, that was a joke. Gary was up on him, man. We had Michael rattled, but that's what MJ is. He is never gonna let you know when he's rattled and he's not going to let you know when he's feeling great. He's just going to try to dominate you at all times.
"I have the most respect for him of any player. I'm just happy for him seriously. I have said this before and I'll tell you guys the same thing. People ask me about who is the greatest, this or that. I can't tell you in history who is the greatest of what, but I can tell you this, the only thing Michael Jordan ever did was win.
Did Gary Payton really affect Jordan's scoring in the 1996 finals?
The 1996 finals were the first appearance MJ had made after his comeback from his first retirement. The Bulls were heavy favorites to win it all, with a record of 72 wins in the regular wins.
They also had steamrolled past all the competition, losing just a single game coming into the finals. Initially, it seemed that it was going to be a full blown sweep against the Supersonics as the Bulls comfortably won the first three games.
For those three games, MJ was not guarded by Payton. Sonics coach George Carl switched the defense. Now, Payton was guarding Jordan. There was an instant impact. For the first three games where he was not guarded by Payton, MJ averaged 31 points, 5 assists and 46% from the field.
ADVERTISEMENT
Article continues below this ad
In game four those numbers suddenly plummeted for MJ. He scored 23 points but was 6-19 from the floor and had a dismal performance by his standards. With Payton guarding him for the last three games, he averaged 23.7 points, 3.3 assists and 36.7% from the field.
This just goes on to prove how solid 'The Glove' was, defensively. Despite having a slight disadvantage of height, he could limit a defensive beast like Michael Jordan, who can score at will.
ADVERTISEMENT
Article continues below this ad
Despite MJ's struggles, the Bulls somehow sealed the deal in game six and won the championship. Jordan might dismiss that Payton was never a problem, but stats don't lie. If Payton would have guarded MJ from the first game, we might have seen a very different outcome.