Former NBA Champion Agrees With LeBron James' Comment on Devin Booker Being The Most Disrespected Player
Published 02/26/2021, 10:30 PM EST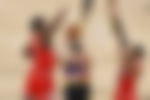 ---
---
Phoenix Suns have been in blistering form this season, surpassing all expectations that fans and critics had from them. Hence, one is not surprised that Devin Booker's exclusion from the official All-Star team has attracted a massive backlash. However, luckily for Devin Booker, Anthony Davis' injury helped the league quickly rectify their mistake.
ADVERTISEMENT
Article continues below this ad
NBA commissioner, Adam Silver, gave Booker the nod to replace AD.
There are still two very different outlooks on this matter. While LeBron James thinks that Booker isn't appreciated enough in the league, some think that it is because of Chris Paul's presence in the Suns this season that has contributed to their success so far. However, let's hear what former NBA player Matt Barnes has to say on this.
ADVERTISEMENT
Article continues below this ad
Couldn't agree more with LeBron James
Barnes agrees with Adam Silver's decision to give Devin Booker Davis' place. He stated, "Devin Booker is having a great year with his running mate, CP3. They're probably the biggest surprise team of the year.
"They're sitting at the fourth place in the Western Conference, ten games over 500. I just love the kind of basketball they are playing. Like LeBron said that Devin Booker has been consistently looked over," he further explained, agreeing with the commissioner's decision.
Not only Paul, but Booker has also helped Phoenix secure their spot amongst the top five teams in the West. Their 20-10 record is the best so far in the first 30 games since the 2007-08 season.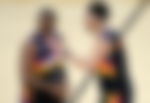 Does Devin Booker deserve to be a part of the All-Star team?
A lot of noise was made around Booker being snubbed from the reserves list this year. But it looks like the protest worked and got Booker straight to the All-Star roster. Unfortunately, it came at the cost of an injured Lakers' superstar, Anthony Davis.
Making it to the All-Star team is especially significant for a young player like Booker. But his biggest competitor turned out to be his own teammate, Chris Paul.
It is true that Paul's veteran experience has given Suns an opportunity to thrive, but Booker deserves as much credit for their performances this year.
ADVERTISEMENT
Article continues below this ad
Booker had even made it to his first All-Star team last season and if he hadn't been named this season, there would have been nothing but disappointment.
Averaging 25 points, 3.6 rebounds, 4.3 assists, while shooting a career-high 50.3% from the field, the shooting guard certainly deserves this.
ADVERTISEMENT
Article continues below this ad
Read Also- Chris Paul Voices Out Against Devin Booker's All-Star Snub: 'Bittersweet'