Former NBA Champion Explains Difference Between Wizards' Michael Jordan and Lakers' LeBron James
Published 05/06/2021, 10:52 PM EDT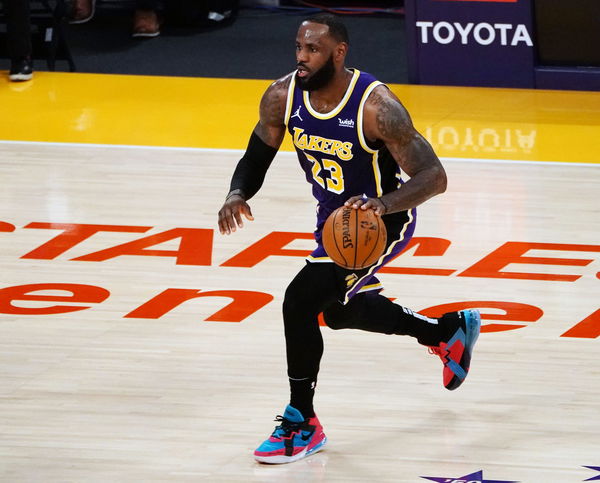 ---
---
LeBron James is arguably one of the best players the league has ever seen. Despite being a part of the 2003 draft class, the 36-year-old has continued to dominate the league and makes any team he is a part of an instant championship contender.
With his incredible all-round game, James has elevated himself into the upper echelon of NBA greats and has become a staple in the evergreen GOAT conversations alongside Michael Jordan and Kobe Bryant.
Metta World Peace explains  difference between Wizards' Michael Jordan and current LeBron James
While Jordan might have won more rings and MVPs than LeBron, one of his most underwhelming stints in the league came in with the Washington Wizards when a 38-year-old MJ geared up for the team.
But for LeBron James, that clearly hasn't been the case. Although he is playing in his 18th season, LBJ is keeping up with his career average and has rather shown improvements in certain areas of the game in the last few years.
Former Lakers champion Metta Standiford-Artest spoke about the same recently. In an appearance at the Called Game podcast, Artest spoke about the differences in the approach of an old Jordan and LeBron.
"When MJ was playing, if LeBron did what MJ did that early, maybe LeBron gets tired also right. MJ felt like it literally was no competition that's that was the feeling I'm gonna come back again and just win again right like, 'I'm done, I got six rings, I've never lost in the finals no one's gonna catch me.' right and that's his mind. "
"But LeBron lost in the finals. LeBron don't have six rings, so LeBron he won six rings, but it better believes that yeah. He got four, he's got four, that's not a lot for him… It's not a lot for him, that's not a lot, you know… So it's hard to compare what their passion is they're just different."
ADVERTISEMENT
Article continues below this ad
While the GOAT conversations might be favoring Jordan for now, a 36-year-old Bron still seems to be at his peak. With James not showing any signs of slowing down, LBJ might add some more laurels to his stacked career. Who do you think is the GOAT, LeBron James or
Michael Jordan
?