Former NBA Champion Explains What the Utah Jazz and Phoenix Suns Need to Do to Win an NBA Title
Published 04/17/2021, 10:05 AM EDT
---
---
The Utah Jazz and Phoenix Suns currently sit at one and two respectively in the Western Conference. This is a position that nobody would have predicted for either side heading into the season. However, both teams have outpaced the herd in the West to possibly finish with the top seeds in the Conference.
ADVERTISEMENT
Article continues below this ad
Despite that, many are overlooking them in favor of the Lakers and Clippers. Former NBA Champion Rasheed Wallace has a suggestion as to what part of their game can these team's improve on to make them seem more legitimate as contenders. That aspect is the same aspect his '04 Detroit Pistons won the title. Defense.
ADVERTISEMENT
Article continues below this ad
"It's something that isn't played in the NBA now and that is defense. That's what we hung out hat on. That '04 Pistons team? We hung out hat on defense from day one when I got traded there. It wasn't gray we're just gonna let busy score, run up and down the court, and get 120-130 points? Nah. That's not happening with us. Defense is the main factor and that's what set us aside from a whole lot of other champions. We have an NBA record that will never be broken I think. That's when we held six or seven teams under 70 points. We wasn't trying to do it, we were just playing basketball."
Utah Jazz and Phoenix Suns: Are they genuine title contenders?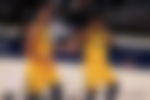 The Utah Jazz and the Phoenix Suns currently sit atop the Western Conference. Despite that, no one has them in title conversations. While the other teams do have superstars that make them more enticing, is that the only reason why these teams are being overlooked? But is defense the reason they are being overlooked?
ADVERTISEMENT
Article continues below this ad
The Jazz are one of the best defensive teams in the league and have the likely Defensive Player of the Year in Rudy Gobert. Quinn Snyder is their coach and takes pride in defense. Similarly, Phoenix has been great defensively.
ADVERTISEMENT
Article continues below this ad
Both teams are in the top five of the NBA's Defensive rating this season for a reason. The reason they aren't looked at as contenders is because of inexperience and a lack of firepower to match the super teams.