Former NBA Champion Explains Why Kyrie Irving Deserves The Same Respect As Kobe Bryant and Michael Jordan
Published 01/10/2021, 4:00 PM EST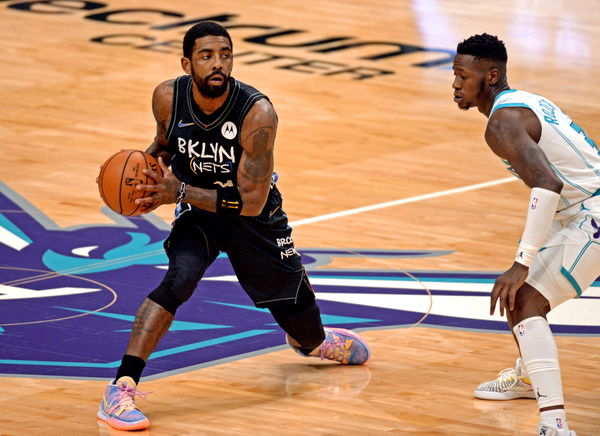 ---
---
Kyrie Irving is either disliked by most NBA fans or highly respected for solely being one of the best point guards in the league. Talking about him being scrutinized, the man is mocked for having a bad attitude and also being a bad teammate. In fact, his most recent outburst at the media did not help his case either. But John Salley believes that Kyrie is right on his part.
ADVERTISEMENT
Article continues below this ad
Kyrie Irving should get the respect he deserves
When Irving was fined for refusing to speak to the media, he finally explained his reason behind his actions. "It's really just about how I felt about the mistreatment of certain artists when we get to a certain platform of when we make decisions within our lives to have full control and ownership … We want to perform in a secure and protected space," he said.
ADVERTISEMENT
Article continues below this ad
So, when former basketball player John Salley was asked whether he thinks Irving was right to consider himself an artist, he said, "He is."He further explained, "Isaiah Thomas said he's never seen anybody handle the ball like that. That's like saying I have never seen anybody handle a paintbrush like that.
"So to take an instrument like a basketball and do the things he can do with it, bu dribbling it. That's artistry. So, George Gervin, artistry. Kobe Bryant, Michael Jordan, artistry. So, he is an artist and in his artistry, he should be able to determine how and what he wants to say about it."
Charles Barkley disagrees with Salley
ADVERTISEMENT
Article continues below this ad
This topic went on, and Salley was told that Barkley believed Kyrie is no artist. He is just a basketball player, not a front liner who thinks he is the smartest person in the world. To this, Salley stated, "That's Charles' ignorance. You are a basketball player. We don't have to be front line because they want LeBron to take the vaccine.
"So obviously what we do and say moves millions of people. I said it before If you constantly go against the narrative of the artist and it sounds like you're saying something that's good, that child's opinion. No matter how wrong it is." 
He further compared a real artist using his tools that we consider art as an analogy to explain why Kyrie is one too. "The muscle control that Kyrie has with his wrists, arms, balls, and hand is the same."
ADVERTISEMENT
Article continues below this ad
Well, Irving is now playing for the Nets and is getting along great with Kevin Durant. So, we can't really say how he should be portrayed, but do you think Kyrie deserves the same respect as Kobe and Jordan?