Former NBA Champion Believes Brooklyn Nets Have No Chance Reaching the Finals Without Spencer Dinwiddie
Published 12/29/2020, 10:16 PM EST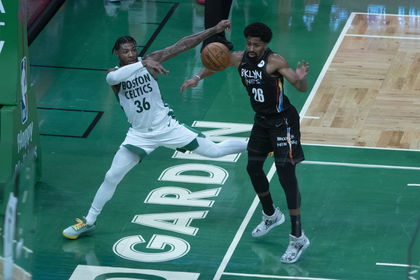 ---
---
Most NBA teams rely on two main players to create an impact for them. But a franchise that employs a 'Big 3' actually enjoys a clinical advantage. The Miami Heat in their back-to-back championship win had that equation, and so did the Golden State Warriors. But what about the current Brooklyn Nets team? Are they short of one superstar?
ADVERTISEMENT
Article continues below this ad
On December 28, 2020, the Nets took to the court without Kevin Durant, Kyrie Irving, or Spencer Dinwiddie. They still put up a decent performance and took the game to OT, but eventually lost it. It should be noted that Dinwiddie, along with Durant and Irving is an equally important player for the Nets. 
The Brooklyn Nets and their odds of winning big
ADVERTISEMENT
Article continues below this ad
As per Kendrick Perkins, the Nets have a very slim chance of making a deep playoff run without Spencer Dinwiddie. He recently sat for an interview and explained the impact Dinwiddie brings along with him:
"Spencer Dinwiddie is a 6'5" combo guard, a big guy that plays great defense, always shooting the pass in lanes, getting steals… Offensively, he is the guy that could play with the ball in his hands and facilitate for others and he can play off the ball. He is an underrated facilitator for playmaking."
Now, in the current season, the shooting guard is just averaging 6.7 points with a 37.5% FG. He started in all three games for the Nets, but failed to score big in either fixture. However, Perkins has his own reasoning why the 27-YO deserves his respect.
"Last season, [Dinwiddie] finished at the top of the charts at isolation plays, meaning that either he was getting the bucket or getting assist for the bucket," said Perkins. 
"He's clutch, and last time I checked, I haven't seen a team that have won a championship without having a Big Three. Although he did get off to a slow start this season, he's still a All-star caliber player. When you look at the production Spencer Dinwiddie brings to the table, they can't replace it," Perkins mentioned. 
Last year, in the absence of the KD and Kyrie, Spencer averaged 20.6 points and six-plus assists per game to prove his worth.
Spencer Dinwiddie's injury can affect the team
ADVERTISEMENT
Article continues below this ad
Dinwiddie gave Nets fans a major scare after being sidelined with a partial ACL tear. This injury demands surgery, and that means he'll sit out for quite a while. Without him, Steve Nash will have to rethink a few tactics and find an effective player to fill into Dinwiddie's role. 
However, Dinwiddie's game also has a shortcoming which is his three-point shooting. But the veteran's ball-handling has largely been making up for the gap, and his game is a joy to watch. Now, in his absence, the sixth man in Caris LeVert might have to suit up with additional responsibilities. But this is what KP had to say about the option:
"I hear you talk about playing Caris LeVert into the starting lineup, okay cool, which will take away the depth in the bench… We discredit or don't respect Spencer Dinwiddie the way we should. He's an All-star type player. I don't see the Nets making the Finals without Spencer Dinwiddie," he expressed. 
ADVERTISEMENT
Article continues below this ad
In another option, they can promote Taurean Prince to the starting five or maybe even stretch for a trade. The complexity is high, and only time will tell if the Nets can go all the way without Dinwiddie by their side.