Former NBA Champion Calls Giannis Antetokounmpo the Robin to Khris Middleton's Batman
Published 06/21/2021, 9:42 PM EDT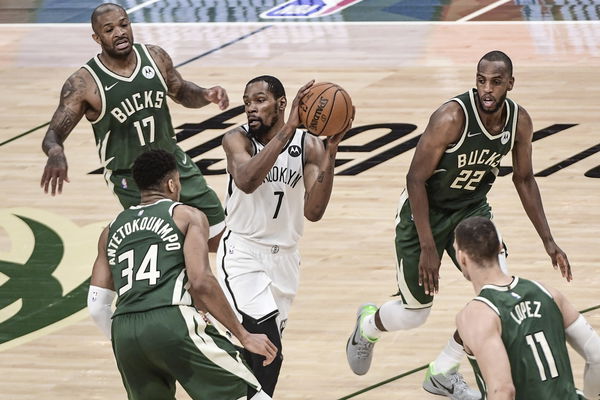 ---
---
The Giannis Antetokounmpo led Bucks accomplished the unthinkable when they knocked out the Brooklyn Nets from the 2021 playoffs. Undoubtedly, the Bucks deserved this because of their regular-season consistency from the past three years. 
ADVERTISEMENT
Article continues below this ad
This time around, Downtown was fortunate that both Giannis and Khris Middleton were in sync throughout the postseason. But for their upcoming series, Kendrick Perkins has a different theory to suggest to Mike Budenholzer. 
Kendrick Perkins with unique advice for the Bucks to consider
ADVERTISEMENT
Article continues below this ad
The Bucks were so strong against the Brooklyn Nets that they effectively used just one player out of their starting five in Game 7. Both Bryn Forbes and Thanasis Antetokounmpo combined for just six minutes of negligible floor time. All this could happen because of the immense commitment from their star duo. Giannis (50 minutes) and Khris (52 minutes) played with their bodies on the line to match with Kevin Durant. But is it fair to give the Greek Freak all the credit? Kendrick Perkins doesn't seem to think so.
In a recent interview, the former NBA Champion expressed that he sees Giannis as the Robin to Khris's Batman. This assessment is understandable from the perspective that Khris Middleton is a shot creator and a clutch player.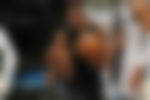 Giannis Antetokounmpo and Khris Middleton: The underrated duo
It is easy to notice how the world always discusses LeBron James and Anthony Davis, Kawhi Leonard and Paul George, and other duos. But the Bucks' duo normally doesn't usually make it to the top five, but that's going to change after this season. 
ADVERTISEMENT
Article continues below this ad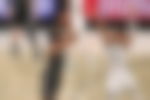 Giannis, a rim dominator and shot-blocker, when combined with Khris Middleton's shooting, becomes lethal. The duo complements one another and brings out the best in each other. In the postseason, Khash Money (87.3%) has been better than Giannis (53.8%) in free throw accuracy. Plus, the 29-YO Khris is a way better perimeter shooter, and he combines with Jrue Holiday to become a highly dependable clutch player as opposed to the Freak.
But eventually, this is all for the benefit of the Bucks who are now the favorites to win the ECF. 
ADVERTISEMENT
Article continues below this ad
Watch this story – Giannis Antetokounmpo and Others' Heated Playoff Moments