Former NBA Champion Names Zion Williamson Heir to the Throne of LeBron James & Steph Curry
Published 04/13/2021, 9:16 PM EDT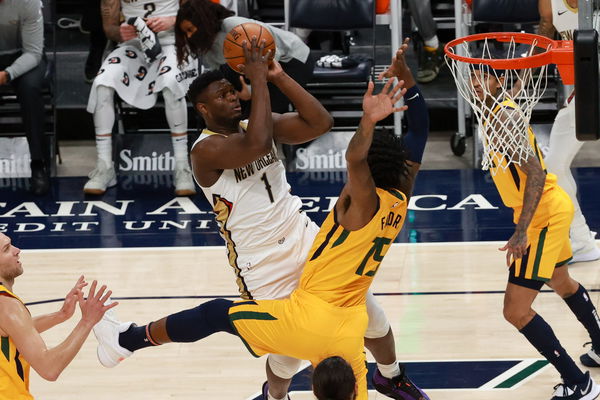 ---
---
Lakers' LeBron James (36) and Warriors' Stephen Curry (33) have been the poster boys of the NBA for a while now. But just as their bodies age, the league must find a fresh face that can define everything it stands for. That's exactly where Pelicans' Zion Williamson (20) makes his grand entry as a promising talent who can deliver each night.
ADVERTISEMENT
Article continues below this ad
It's not that the likes of Luka Doncic can't take that position, but Zion also shares the same stage. But is this just a gut feeling, or are there NBA analysts that back the case of Zanos?
Zion Williamson taking the baton from the league legends?
ADVERTISEMENT
Article continues below this ad
To be honest, it takes more than putting huge numbers when it's about becoming synonymous with the league's identity. Players like LeBron James and Steph Curry are both on-court and off-court champions and have built credibility over the course of time to deserve that recognition. However, there are genuine names voting on Zion Williamson to be the next big thing.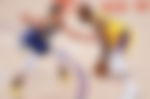 In a recent interview, former NBA Champion Kendrick Perkins expressed, "He is must-see TV, he's the future face of the NBA. And I get it, he don't pass the eye test right, he's 6'6" with this bulky frame… When I say the eye test, I'm talking about, y'all look at his body, he is not ripped up like LeBron James, he walks like he have two left feet. But guess what, the people down in New Orleans baby, they got something special in him. This guy is so special, I love what Van Gundy did by moving him to the point forward position. He can not be stopped." 
The way Zanos is single-handedly lifting the Pelicans and keeping them in the playoff contention speaks volumes. Perhaps that is why Perk sees not just a bright, but a kingly future for him.
Watch story: Stats Proving That Zion Williamson Is Better For New Orleans Pelicans Than Anthony Davis
How good were LeBron James and Steph Curry at the same point?
ADVERTISEMENT
Article continues below this ad
Zion is just in his second year, and all his numbers match with that of a young Shaquille O'Neal. True, his jump shots are far from as good as his paint dominance, but he is getting there. If he can show growth as meteoric as that of Giannis Antetokounmpo, the prediction of Perk can become true.
Also, at the same point in their careers, Bron and Curry were nailing it too. While the latter still took time to hit huge numbers, the former was averaging 27+ points from his second year itself.
Currently, Zion is scoring 26.8 points, 7.1 rebs, and 3.7 assists per night. He has improved his postering and is relying less on three-point shooting. The 20-YO is developing his game with every passing week and chances are that he can soon see a rising demand for his sports cards. All that speaks about the same narrative that KP discussed.
ADVERTISEMENT
Article continues below this ad
So do you agree with the prediction?