Former NBA Champion Makes a Bold Claim That Is a Bittersweet Truth for LeBron James and Anthony Davis
Published 11/28/2022, 4:30 AM EST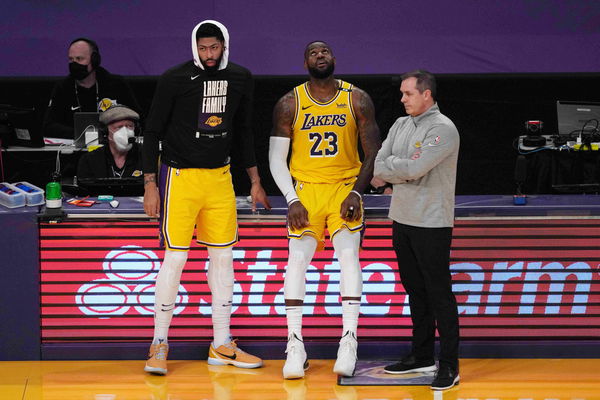 LeBron James' ex-teammate and former NBA champion Kyle Kuzma is now in his second season with the Washington Wizards. But he was an integral part of the Los Angeles Lakers before that. Kuzma was on the 2020 Lakers that won the Championship that year. However, he was traded away from the team a season after that.
But now that Kuzma is a part of the Wizards, he has been putting in the best numbers of his career so far. Though, it seems as if he is still reminiscing about his glory days from playing for the Lakers and winning his first championship.
ADVERTISEMENT
Article continues below this ad
Kyle Kuzma makes a bold claim about his time with the Lakers
Recently, Kuzma made a bold claim that if the Lakers had stayed healthy the following season, they would've successfully defended their title. The Lakers defeated the Miami Heat 4-2 in the NBA finals back in 2020.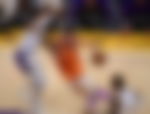 But unfortunately, they were eliminated by the Phoenix Suns in the first round of the playoffs the next year. That was LeBron James' first loss in the opening round of the playoffs in his career. The Los Angeles Lakers were on the verge of taking that series before Anthony Davis went down.
The Suns took the first game in the series, after which the Lakers came back with two straight wins to take the lead. Unfortunately, the injury to Anthony Davis was a major setback for James and the Lakers.
The Suns came back and took the next three games, defeating the Lakers in six games in the first round. It was an embarrassing loss for the Lakers as they had one of the best players on their roster, LeBron James.
ADVERTISEMENT
Article continues below this ad
LeBron James needed Davis to be at his best
However, what Kyle Kuzma said may have some truth to it. If the Lakers remained healthy, they surely wouldn't have lost in the first round of the Western Conference playoffs. Only three players on the Lakers squad were averaging double-digit points in those playoffs.
And after the injury to Anthony Davis, there wasn't anyone else who was able to help James in taking some of the offensive load onto him. Kuzma himself was averaging 6.3 PPG during that series and playoffs.
ADVERTISEMENT
Article continues below this ad
James averaged 23.3 PPG while Davis averaged 17.4 PPG. After James and Davis, the only player to average double-digit points were Dennis Schroder, who averaged 14.3 PPG. Unfortunately, that wasn't enough for the Lakers to take down the Phoenix Suns who went on to qualify for the NBA finals.
Do you agree with Kuzma? Let us know in the comments.