Former NBA Champion Reasons Why Luka Doncic Should Celebrate Comparisons With Larry Bird Instead of Downplaying It
Published 03/02/2021, 11:33 AM EST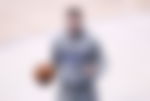 ---
---
Luka Doncic is just 22-years-old, but the Slovenian sensation has already taken the league by storm. He is an exceptional player, a phrase which Doncic would've probably heard a thousand times in his career. But was it right of Luka Doncic to downplay comparisons with Larry Bird? 
ADVERTISEMENT
Article continues below this ad
That's the topic of appeal now. Luka Doncic is only in his third year in the league but has been posting numbers like a seasoned veteran. Furthermore, his style of play resembles that of the legendary Larry Bird, and even one of Bird's former teammates had said the same. 
So Luka Doncic is receiving high praise from a lot of legends who excelled at the game, but the 22-year-old doesn't want to fill up his head with such thoughts. To put it straight, Doncic doesn't want to be compared to Bird. 
ADVERTISEMENT
Article continues below this ad
"You can't compare me to Larry Bird because of the things he has done… More, more games to go. A long time so you can't compare me to Larry Bird. I just want to keep hooping, have fun playing basketball," he recently said.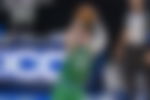 Ex-NBA star disagrees with Luka Doncic
It's clear that Luka Doncic is being modest about the comparisons with Larry Bird. He does not want to be on that pedestal right now, but Matt Barnes had some advice for the Dallas Mavericks star. 
"Not from a championship overall perspective, Larry's one of the greatest we've ever seen, but like Cedric Maxwell said, he's a 2K version of Larry Bird with all the footwork and ball handling, the size, and his ability to get a bucket anytime," Barnes mentioned on ESPN. 
"I think it is a high honor when former teammates of one of the greatest players we've ever seen can compare a current player to him. If we do it it's different, we never played with Larry, don't know Larry, but when guys who played with him and went to war with him can give you that kind of compliment, I just think Luka is being modest," he added. 
ADVERTISEMENT
Article continues below this ad
Barnes just expressed himself clearly. If someone who played with Larry Bird compares you to him, it is a huge honor. Though Doncic was modest, he should've taken the compliment instead of letting go of a comparison made by an NBA great! 
ESPN's comparison also highlighted that Luka Doncic is doing well in terms of points and assists when compared to Larry Bird's third year in the league. The question is, can Doncic sustain his greatness and win multiple championships by the time he retires? 
ADVERTISEMENT
Article continues below this ad