Former NBA Champion Reveals How Michael Jordan Was the Godfather in His NBA Success
Published 01/16/2021, 6:00 AM EST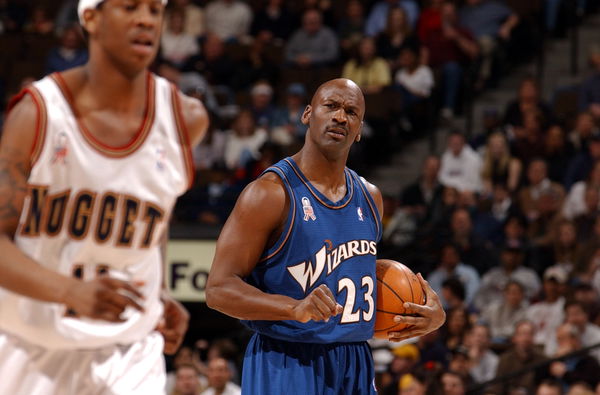 ---
---
Every NBA rookie dreams to play alongside a legend and learn from him. Today, the world is seeing how James Wiseman is doing wonders with Stephen Curry by his side. But it happens rarely that a youngster plays on the same team as the game's GOAT, someone like Michael Jordan.
ADVERTISEMENT
Article continues below this ad
Now, consider the curious case of Richard Hamilton. He entered the NBA in the year 1999, a year after MJ left the Chicago Bulls. Rip, a name he later picked, was drafted #7 by the Washington Wizards. As fate would have it, Air Jordan joined the franchise in the same season, in Jan 2000, as the President of Basketball Operations.
How did the entry of Michael Jordan help Rip?
ADVERTISEMENT
Article continues below this ad
A 21-YO Rip saw the incoming of MJ and knew that it could be life-changing if he could harness the opportunity. He recently expressed his excitement in a podcast, "Given the opportunity to play with the greatest player of all time, and he plays your position, you can't get no better schoolish than that. MJ was great for me personally. One, being a young kid trying to figure out this whole craziness of the NBA and being able to watch him and ask questions, and he was very receptive."
That speaks big time about the character of MJ. No wonder he was so widely respected and loved by almost every player in the league. Rip and MJ played together for one season in 2001-02. The impact of having MJ was so huge on Rip that he averaged 20 points that season.
He further claimed, "People always talk about my medium-range jump shot. A lot of that was because of Michael Jordan and going against him and competing against him every day. Him being able to say to me, 'Hey Rip I'm guarding', I'm locking him up in the practice, but he would tell you something different."
That eureka moment for the young Wizard
The Wizards traded Richard in a six-player deal after Rip served them for three years. The NBA analysts noted this move as a poor calculation for the Wizards.
That proved correct as Rip had his career-best season in 2005-06 with the Pistons after helping them win a championship in 2004. He formed a great team with forward Rasheed Wallace and surprised everyone.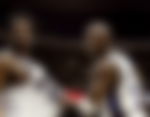 Still, a big credit of that success goes to MJ. Rip revealed this by sharing, "he take two dribbles and he pull up on me, knocks down a shot, and he says, 'Rip, add that to your game'… Why? He's able to break it down, 'you're driving down heal, and the guys backing up, you getting all balance, he can't jump to his height going backwards, you have the advantage, they don't know if you wanna shoot or get to the basket.. That's the hardest player in the game to guard.' I'm like okay, put that in my notes, I added to my game, and that was a big part of my success."
ADVERTISEMENT
Article continues below this ad
Just like a wheel of life, Richard later joined MJ's former team, Chicago Bulls, in 2011. He ended his career on a high note, starting 45/50 games in the last season.
Lastly, he added some more words of praise about MJ, saying, "He wasn't the guy who just stood on his pedestal, pointing out finger like 'you  need to do this/that, I'm the GOAT', he could do that because he was MJ. He just didn't do that with any of us. It was a huge plus for me and Washington to have a guy like MJ right on my side."
ADVERTISEMENT
Article continues below this ad
Not every rookie is as lucky. MJ literally changed his play and impacted his character. One of the many benefits of just being around greatness.