Former NBA Champion Tony Parker Reveals How He Idolized Bulls Legend Michael Jordan
Published 01/07/2021, 11:00 PM EST ---
---
'Tony Parker: The Final Shot', the recently released Netflix documentary about the San Antonio Spurs' star, allows Spurs fans to relive the star's career. This has come after his autobiography 'Beyond All My Dreams' was published last year in November. The documentary has a striking resemblance to Michael Jordan's 'The Last Dance' which would be an honor for Parker, who idolized Jordan beyond measure.
ADVERTISEMENT
Article continues below this ad
A look back at his journey
Tony Parker retired from the NBA back in June 2019 after playing one season for the Charlotte Hornets. However, it is his seventeen seasons with the Spurs that make him a vital piece of their dynasty. He brought about a playing style that the NBA hadn't seen before.
ADVERTISEMENT
Article continues below this ad
He was San Antonio's No. 28 pick in the 2001 NBA draft. At the time, the Spurs were one of the top teams of the West, but they had a point guard missing from a star-studded roster. They needed someone who could guide their offense and get the ball to the team's future Hall of Famers like David Robinson and Tim Duncan.
His presence helped the Spurs make an even better name for themselves. Then came the four championships that the franchise won with Tony as their starting PG. The last time they won a championship was 2014 when they demolished the Miami Heat in five games.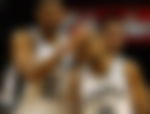 How Tony Parker looked up to Michael Jordan
This documentary about Parker includes other NBA entities that give a deeper insight into how the man was beyond the world of basketball. These included the late Kobe Bryant, coach Gregg Popovich, Bruce Bowen, and even former teammate, Tim Duncan. But the part that caught people's attention was his love for Jordan.
ADVERTISEMENT
Article continues below this ad
With clips of Jordan's best moments playing (6:20), Tony Parker said, "He was my idol when I was a kid. I had posters of him in my bedroom. And I wanted to be like him, play in the NBA."
There is also an interview with Jordan in which he said, "You know, he tells me that he grew up watching me in Chicago with his family. So, to see him progress and actually have an unbelievable career, I am very happy for him. To be able to know him and call him a friend, is even greater."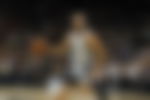 ADVERTISEMENT
Article continues below this ad
The 98 minutes long documentary is a must-watch for all NBA fans who want to understand the way Parker left an impact on the Spurs. It is his journey from being a young French basketball player to becoming one of the greats.