Former NBA Champions Compare Kevin Durant with Steph Curry and How He Makes You Jealous
Published 04/26/2021, 11:34 PM EDT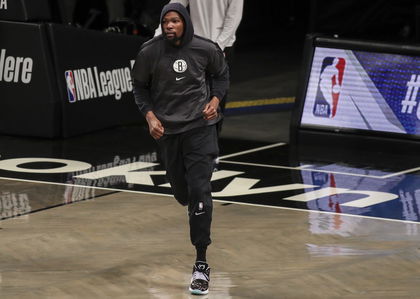 ---
---
Every time Kevin Durant comes out of an injury, the superstar somehow plays even better. When he first returned to the court after his injury, he wasted no time in being an asset to the Brooklyn Nets. And once again, his thigh contusion, which had him miss three games, could not stop him from having a big night. What's even more shocking is that Durant actually compares his performances to just an exercise.
ADVERTISEMENT
Article continues below this ad
Kevin Durant comments on his performance
Playing just 28 minutes off the bench against the Phoenix Suns, KD added 33 points to the scoreboard and shot 12-0f-21. The icing on the cake was Kyrie Irving, who also put up 34 points along with 12 assists.
ADVERTISEMENT
Article continues below this ad
The Suns' defense could not handle the Nets' fire-powered offense. Although the game was going neck to neck for the most part, the Nets finally escaped with a 128-119 win. What makes Durant's scoring barrage so impressive is that he can drop buckets in so many different ways. It is his versatility that makes him one of the greatest players in the NBA.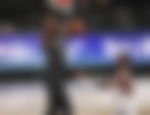 However, when a player like him describes his high-scoring night as simply an exercise, it seems unreal.
"It's like riding a bike," KD said after the game. "You get your footing right and just get your rhythm going, and I think my teammates did a great job of looking for me all game, and I just wanted to resort back to that work I put in. The shots I work on at practice and shoot around, try to get to those as much as possible to gain my rhythm and then start to get a little more creative as the game progressed. It was a good start."
Former NBA players amazed by KD's comment
On ESPN's 'The Jump' segment, Robert Horry and Richard Jefferson opened up about Durant's crazy night. In fact, Horry couldn't even digest KD's post-game comments. Horry said, "He called this an exercise. This is light work for him. That's what you have to pick up on."
He explained that Durant might not be talked about much but is still one of the best in the league. "When he steps on the court, he makes it look so effortless and so easy… We both played the three spot, he just makes you jealous man," Horry added.
ADVERTISEMENT
Article continues below this ad
Durant was a vital part of the Warriors, along with Steph Curry and Klay Thompson. So Jefferson stated, "This is what made Steph and Klay and him so dangerous, is that Kevin Durant could be Steph Curry. If he just wanted to only shoot three's and try and knock down ten three's multiple times."
However, Jefferson said that dropping buckets from the arc may be Steph's MO, but what makes Durant what he is is that he can do so much more than that. And that he just doesn't stick to one weapon.
The Brooklyn Nets' standing in the Eastern Conference has finally risen to the top after their two consecutive wins. With no news on James Harden's return, how long do they plan on sticking there? Or will the 76ers rally back and take back what belongs to them?
ADVERTISEMENT
Article continues below this ad
Read also- Former Cavaliers Teammate Reveals Even LeBron James Couldn't Tame Kevin Durant As He Warns Knicks Fans