Former NBA Coach Reveals Peculiar Conversation with Michael Jordan After Joining Washington Wizards
Published 01/09/2021, 6:15 AM EST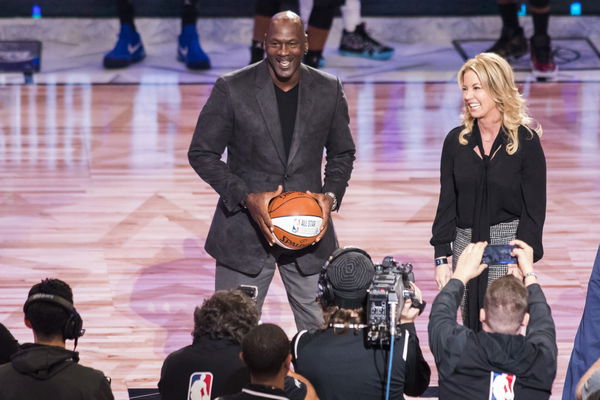 ---
---
Michael Jordan is one of the most interesting figures in basketball lore. Even 23 years after his first retirement, people are still intrigued by stories of MJ, and they never fail to amaze. Jordan was one of a kind, never before and never again. His aura still has a certain magic to it that few players could hope to come close to, let alone match.
ADVERTISEMENT
Article continues below this ad
MJ asked for Doug Collins
Former NBA Coach Brian James revealed an interesting story about how he joined the Washington Wizards' coaching staff. He recalled an interesting conversation he had with former coach Doug Collins about a new opportunity. At the time, James was in Toronto as an assistant coach, and not looking to leave anytime soon.
ADVERTISEMENT
Article continues below this ad He said, "I would've stayed in Toronto for a long, long time. I was happy there and was thinking about going back to Detroit when Joe Dumars took over, I had the opportunity to do that. But I get a call from Doug Collins and the playoffs are still going on. And he says 'I had an interesting phone call from Michael Jordan" 
James added, "Michael is the new president of the Washington Wizards and as soon as the playoffs are over, he wants me to be the new head coach of the Wizards next year. So I want you to come back and join forces with me.' You don't turn down the guy who got you your start in the NBA. I had loyalty to Doug, and that is one of the reasons why I was able to get my first job."
Michael Jordan wanted to make a comeback
James revealed that there were doubts about Michael Jordan actually returning to play. But Collins was confident because Jordan had told him that he was training every day. His return would be inevitable. Collins then revealed that he flew to Washington for Collins' introduction as the new head coach of the Wizards.
ADVERTISEMENT
Article continues below this ad
"He told me, 'I don't know if Michael is going to play or not, but he tells me that he's working out every single day. I think he's going to come back and play.' So that's what started it. I flew from Toronto to Washington for Doug's press conference and then had to turn around and fly right back because we're in the playoffs." 
Furthermore, James revealed that Jordan was unsure about why Collins wanted James to be his assistant coach. But understood that James was the key and was ready to do whatever it took. " And Michael said, 'Hey Jamesy, how you doing? I want Doug as my coach, and for whatever reason, he wants you as his assistant, why I have no idea.' That's how that got started."
ADVERTISEMENT
Article continues below this ad
Jordan's return to basketball was confirmed, and he took to the court once again. He came out of retirement for the second time in his career. While he was 38 years old, he was still Michael Jordan and showed what he could do. Jordan's stint in Washington was short-lived but memorable.