Former NBA Legend Differentiates Between the Hate LeBron James and Kevin Durant Received
Published 03/29/2021, 11:02 PM EDT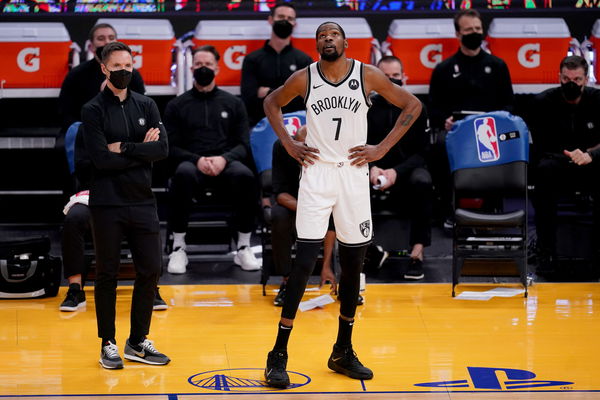 ---
---
In the NBA (or in any sport), fans are averse to a player making a self-centered decision. They did not like LeBron James moving away from his first team to shake hands with a championship contender. Neither did they welcome Kevin Durant joining major rosters, and these unpopular moves often see some major names on the receiving end of fans' disdain.
ADVERTISEMENT
Article continues below this ad
This disdain and a player's journey go hand-in-hand. But the matter really picks up the heat when the athlete in question decides to retaliate. That is exactly what KD did when he saw some critical comments directed at him. 
I'll NEVER be able to do anything that I really want to do on earth, by myself.

— Kevin Durant (@KDTrey5) March 28, 2021
ADVERTISEMENT
Article continues below this ad
The unmatched hate that LeBron James received
In a recent interview, former NBA legend Jamal Crawford discussed how LeBron James was the first receiver of extreme hate. The 41-YO retired player expressed, "That brought a lot of hate. It bought love as well for him back home. But, the Miami days were when the hate really started, when you go back and think about it… He was the Top 10 player, Bosh was the Top 10 player, now you're the best player at the time."
JC was referring to the infamous 'Decision' when LeBron left the Cavaliers to join Miami Heat. It was a heartbreaking year for the Cavaliers fans who had placed their hopes of breaking the Cleveland curse on Bron. But in 2010, the most ardent Akron Hammer fans turned against him and a flurry of hate followed. From the booing in the home stadium to burning Bron's jersey, it was a painful spectacle. 
Read also – Kevin Durant Continues His Banter With Fans Amid Time Off from NBA
Is Kevin Durant receiving more hate than LBJ did?
JCrossover also added how Kevin Durant is yet to see his share of hate. He drew a parallel between the Celtics of 2007-08 to the Nets of 2020-21. Back in the days, Ray Allen (Supersonics) and Kevin Garnett (Wolves) had joined Paul Pierce in Boston to make the Big Three. He detailed how KD joining Kyrie Irving and James Harden could bring further hate comments.
ADVERTISEMENT
Article continues below this ad
JC agreed, "Yeah, but they (Nets) haven't won it either. So if they win it, that hate will come potentially. And, because at the time LeBron did it, he was the first of his kind to do it that way. Because when Boston did, they were in their mid-30s. They did on their prime, so I think they had already seen and accepted the hate."
Notably, KD had seen his fair share of hate when the OKC had given away a 3-1 WC Final lead against the Warriors. And ever since he left the Thunder, he has been part of a bad narrative. JC added, "That was part of it. He had 3-1, that's what people add that twist to it… It's not good because we're judging players of championships."
There seems to be a vicious cycle in play because if a player does not win, he is tagged a failure and if he joins a big roster, he is hated all the more.
ADVERTISEMENT
Article continues below this ad
Read also – 'Absolutely Right' – Tom Brady Backs NBA Star Kevin Durant on Teamwork Comments