Former NBA Player Raises Questions to Joel Embiid Amid Ben Simmons Trade Fiasco
Published 09/02/2021, 11:28 AM EDT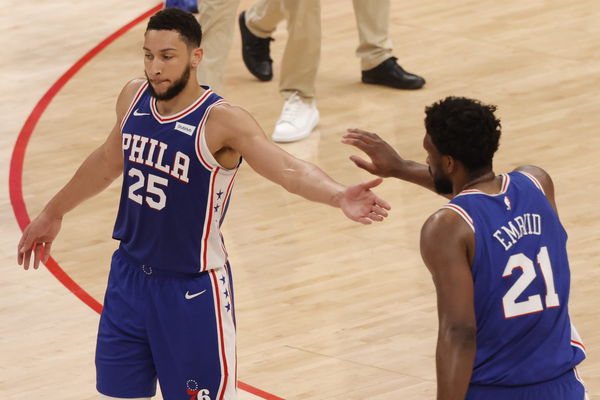 ---
---
The Philadelphia 76ers have been making headlines for all the wrong reasons. During the season, they were eliminated from the race to the NBA championship at the hands of the Atlanta Hawks. Now, this was a series that had everyone taken aback because the Sixers were the clear favorites to win it. But the team was defeated and Ben Simmons had to bear the brunt of it. Fans and analysts criticized the point guard to a point that he has now even requested a trade. But it seems like Joel Embiid also might have played a role in it, contrary to what he believes.
ADVERTISEMENT
Article continues below this ad
Is Joel Embiid finally showing standing up for Simmons?
ADVERTISEMENT
Article continues below this ad
Ben showed a lot of promise in the first round of the playoffs. They came out as winners in five games, with Ben surpassing most of his season averages. However, their game with the Atlanta Hawks has them in a bit of a mess right now. When the Hawks won the first game of the series, they made a statement that they could compete very well, as they did, dragging them to a Game 7 and demolishing them.
Simmons' free throw shooting was to blame, along with his inability to come up big in the crucial moments. While fans were obviously quick to blame, it seems like so was Embiid who made some subtle remarks in the post-game interview. After which rumors about a beef between Ben and Embiid started to make rounds and Joel tried to dismiss them, Jay Williams isn't having any of it.
On ESPN's KJZ, Williams stated, "What it seems like to me that even though he wants to make it seem like there is no rift between him and Ben Simmons, he threw Ben Simmons under the bus. After they lost that game. In game 4, they had an 18 point lead. In game 5 they had a 26 point lead and in Game 7, they had 17 turnovers, Joel Embiid had 8."
"I understand Ben Simmons didn't play to the level we expected him to play. But yesterday he was a leader of the team that could go deep into the playoffs. Because that's the count of accountability Joel Embiid needs to have."
WATCH THIS STORY: Ranking Top 5 NBA Draft Classes of All Time Featuring Michael Jordan's 1984 Draft Class
What did he say in the post-game interview?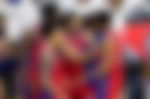 Embiid was very frank after they lost to the Hawks. Although he didn't take any names, it seemed evident he was talking about his co-star when he said, "I'll be honest. I thought the turning point was when we — I don't know how to say it — is when we had an open shot and we made one free throw…."
ADVERTISEMENT
Article continues below this ad
However, there was a big change in this stance yesterday. He went on Twitter, calling out all those who were claiming Simmons and him were drifting apart. And he also showed his immense respect for Ben Simmons in that Tweet as well.
The Philadelphia 76ers status has been a rollercoaster so far. There is currently no sign of a deal that is shipping Ben off. Even though he has made it clear that he won't be showing up for training camp. Only the people involved can know what's really going down. Until then, all we can do is wait and watch.
ADVERTISEMENT
Article continues below this ad