Former NBA Player Recalls His Epic Comeback to Michael Jordan's Trash Talk on Space Jam Sets
Published 12/24/2020, 5:57 PM EST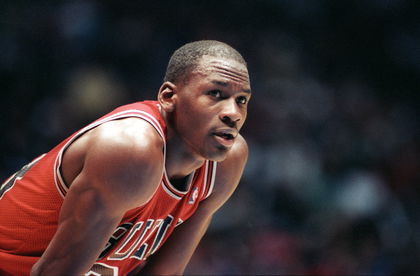 ---
---
Michael Jordan is arguably the greatest player basketball has ever seen. He was one of the first players who achieved super stardom off the court.
ADVERTISEMENT
Article continues below this ad
When MJ was in the University of North Carolina, Sports Illustrated had a cover story on the then 20-year-old Jordan. One of the most iconic pictures of Jordan emerged from the story. In the picture, Jordan was in his dorm room and had an intriguing poster stuck on the wall.
The poster was of Bucks' legend, Marques Johnson. Recently on Twitter, when a fan shared this picture, Johnson recalled a hilarious conversation between him and Jordan.
ADVERTISEMENT
Article continues below this ad
Had to remind Mike of this when he talked trash to me during the filming of Space Jam. Told him, "you had my poster on your wall, homie"😎 https://t.co/BSef1MYRbf

— Elder Marques Johnson (@olskool888) December 24, 2020
Johnson said, "When he was shooting the movie Space Jam out in Los Angeles, I was doing something on the court. Dunked it a couple of times.. And he was like, 'Come on, old man. You don't need to be trying to dunk, you know weren't a dunker when you played, don't be trying to dunk now.' And I was like, 'Look MJ, you had my poster up in your room in college, so whatever I was doing back then, I was doing right!' …He was like, 'Yeah, you got me on that. You got me on that. I sure did and had your poster up. I used to love your game back then.'"
How did Michael Jordan train during the shooting of Space Jam?
Michael Jordan was one of the busiest players in the 1995 off-season. He was trying to return to the peak of his powers after being away from the game for around a year.
He also had to shoot with the Warner Brothers production house for the completion of Space Jam. But only a player like MJ would be able to pull both off. When you are the best player in the league, you have your own perks. This was also the case with MJ, and he was given a full-blown facility. Despite having a twelve hour shooting schedule, 'His Airness' squeezed in a two-hour workout with personal trainer Tim Grover.
ADVERTISEMENT
Article continues below this ad
After the completion of the shoot, Jordan played multiple pickup games with other pros like Charles Barkley, Patrick Ewing, Dennis Rodman, and Reggie Miller.
MJ's sheer will to be the best paid off. He successfully returned to his peak form and as they say, the rest is history. Jordan went on to win three titles in a row once again, taking his tally of championship rings to six and cemented his legacy as one of the best to embrace the game of basketball.
ADVERTISEMENT
Article continues below this ad