Former NBA Player Reveals How He Felt After LeBron James Dunked On Him
Published 01/25/2021, 11:30 AM EST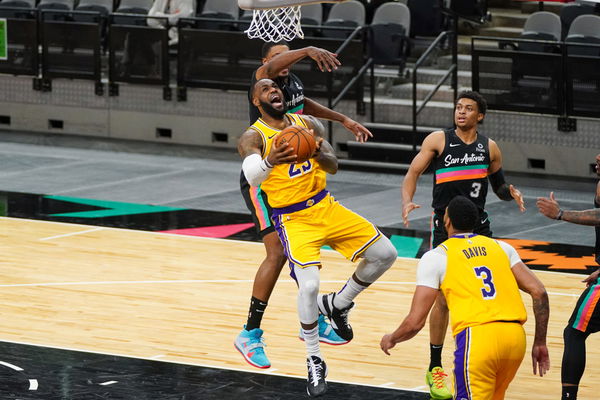 ---
---
If somebody asked for a list of the best dunks by LeBron James, the one on John Lucas III would probably top the list. This was back in 2012 when James was playing for the Miami Heat and the famous 'Big Three' led Miami to an NBA title. No Heat fan can ever forget that play, not even Lucas.
ADVERTISEMENT
Article continues below this ad
Hear it from the man who got dunked on by LeBron James
In the first quarter itself, James leaped over the 5'11 John Lucas after a pass from Dwyane Wade and ended with an amazing alley-oop. In an interview, Lucas, who was playing for the Chicago Bulls back then, explained what went behind that infamous shot.
ADVERTISEMENT
Article continues below this ad
"I was playing good and then the play happened," started off Lucas. "I was like Rip, back screen coming like get through. So, he don't move. He stopped. So I am like this backing up, you know guard you like this. I am like dude, they throw the ball up. I was like Mmm. Who was that for?
"I didn't know he jumped over me at the time. He dunk it. Boom! They go crazy." Lucas wanted to take revenge on LeBron as soon as that happened, but the timing wasn't right. "My whole thing was like, Oh shit! He dunked over me. Let me go get a bucket real quick. So I am taking the ball out and brushing on the court. Tim calls time out."
Who else has faced this humiliation?
Lucas isn't the only one who has suffered the humiliation of being dunked like this by LeBron. We have James Johnson, Dwyane Wade, Bill Walker, and even Celtics' legend Kevin Garnett.
ADVERTISEMENT
Article continues below this ad
Nobody is safe from James' deadly moves. The 36 year doesn't seem to have aged at all and is still playing like he is in the prime of his career. He just led the Lakers franchise to their 17th NBA championship title and is on a great path to grab a repeat as well. Do we still have more such dunks to look forward to from 'The Chosen One'?
Read Also- Why Does LeBron James Wear #23 on His Lakers Jersey?
ADVERTISEMENT
Article continues below this ad