Former NBA Player Says Brooklyn Nets Should Trade Kyrie Irving 'For Depth'
Published 01/17/2021, 1:15 AM EST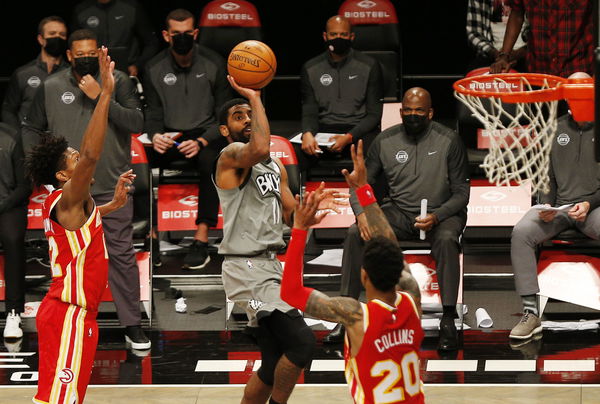 ---
---
The Brooklyn Nets' newest superstar, James Harden, made his big debut tonight. In the absence of Kyrie Irving, Harden put up spectacular numbers in his opening game with the Nets, with 32 points, 12 rebounds, and 14 assists. With his scoreline, Harden became the first player in NBA history to record a 30-point triple-double in his debut for a new team.
ADVERTISEMENT
Article continues below this ad
Matt Barnes wants Kyrie Irving traded
Harden wasn't the only one balling out against the Orlando Magic. Kevin Durant posted 42 points and 5 assists, making him the first Nets player to go nine consecutive NBA games scoring 25 or more points. What made the Nets' performance even more impressive is that they did this without their third All-Star Irving.
ADVERTISEMENT
Article continues below this ad
Irving was not allowed to play in accordance with the COVID-19 protocol. However, if one NBA player gets his wish, Irving wouldn't play for the Nets on a permanent basis.
Former NBA player Matt Barnes took to Instagram to comment on NBA analyst Shannon Sharpe's post on Kevin Durant and James Harden. He said that he would trade Irving and his antics for some defensive depth.
Kyrie Irving has been away from the Nets due to personal reasons, and many in the media have questioned whether Irving can become a dependable star for the Nets. Analysts believe his prior problems in franchises like Cleveland and Boston suggest that he has a penchant for being a locker-room nuisance.
Can Kyrie and Harden play together?
Irving will be back soon. Right now, he is ready to return to the team but must wait for the NBA to clear him to return to action. Due to the recent emergence of COVID-19 cases in the NBA, the league is being very strict with their protocol so they don't have to suspend games and incur any kind of financial damage.
ADVERTISEMENT
Article continues below this ad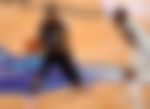 However, all will not be solved when Irving returns. The big question surrounding the Nets is whether James Harden and Kyrie Irving can gel effectively together.
The two players like to keep the ball in their hands and take the last shot. The concern isn't as big with Durant, who has proven with the Warriors that he is just as effective without possession.
ADVERTISEMENT
Article continues below this ad
Can Irving, Durant, and Harden be the latest big three in the NBA? In terms of sheer talent, this may be one of the best big-threes ever assembled. But we are yet to see how they fit together on the basketball court.