Former Phoenix Suns Scout Explains Why Devin Booker Dropped to 13th in 2015 NBA Draft
Published 03/07/2021, 6:00 AM EST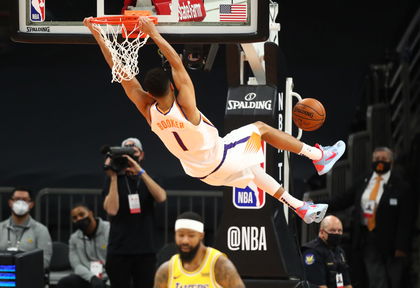 ---
---
Phoenix Suns can consider themselves very lucky. A certain 18-year basketball prodigy landed in their lap around six years ago, and now that kid is wreaking havoc in the NBA.
ADVERTISEMENT
Article continues below this ad
That, of course, is none other than Devin Booker, whom they selected with their 13th pick in the loaded draft class of 2015. Unsurprisingly, the man behind the steal of that night, Antonio Williams, deserves a lot of credit. But what are some of the things which he caught his eye when watching Booker play ball?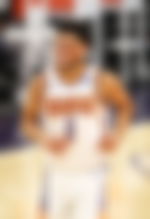 "When I was working in college basketball in Nike, I saw Devin a lot. I saw a lot of things that I liked. Of course, I saw the skills standpoint, from what he could do from a skills perspective," said Williams.
ADVERTISEMENT
Article continues below this ad
Devin played 38 games from the bench for Kentucky in his freshman year. He averaged 10 points per game in 21.5 minutes of on-court action. So, the scouts simply hadn't seen enough of him to take a punt. Plus, he wasn't a physical specimen that they could bank on either.
Which is the primary reason why he fell so low in a draft class which also included the likes of Karl-Anthony Towns, Kristaps Porzingis, D'Angelo Russell, and Myles Turner.
"Number 1, he didn't start a game at Kentucky. He came off the bench, but some underrated aspects of Devin Booker's game – he's more athletic than people think he is, he's tougher than people think he is," said Williams.
Inherent love of basketball enticed Phoenix Suns to select Devin Booker
Booker hasn't had the rub of the green when it comes to garnering respect in the NBA. Despite his high numbers, he's regularly overlooked for other guards in the league. Naturally, there are some underrated elements of his game that are carrying him to NBA superstardom –
ADVERTISEMENT
Article continues below this ad
"When we look at the upside, we always attribute it to physical things. But there are some other underrated elements of upside as well. And one of them is inherently loving basketball… So, those are the underrated aspects of Devin's game. And those are the things that have made him a superstar."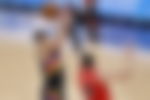 Although he's missing out on the 2021 NBA All-Star Game with a sprained knee, we hope that there are many more to come with the Suns.
ADVERTISEMENT
Article continues below this ad