Former Super Bowl MVP Reveals How Michael Jordan and Kobe Bryant Inspired His Leadership Style
Published 03/17/2021, 6:37 AM EDT
---
---
Michael Jordan and Kobe Bryant were cut from the same cloth. The two legendary players had an identical playing style and mentality. Both players revolutionized the game of basketball and are credited for its worldwide popularity today. Jordan and Kobe are notorious for never giving up and being great leaders, and they even inspired an NFL Super Bowl MVP with their leadership.
ADVERTISEMENT
Article continues below this ad
Von Miller talks about Kobe Bryant and Michael Jordan
Former Super Bowl winner Von Miller gave an interview recently, where he discussed the leadership styles of Michael Jordan and Kobe Bryant. Miller revealed that their styles were creations of their own minds. But he was very inspired by their ability to lead their teams. He himself has tried to implement that in his leadership, but the sport of football isn't the same.
ADVERTISEMENT
Article continues below this ad
Miller said, "The way Kobe leads, that's just Kobe… The way Michael Jordan leads is just Mike. But everybody that wins, everybody that leads, as great leaders, they all have that one thing in common. Football is different. You can't just go in the locker room and challenge 53 people on the team… It doesn't work that way."
Miller added that the differences in football and basketball make it a challenge to adopt the leadership styles of Bryant and Jordan. However, Miller has been greatly inspired by the two legends and has changed his leadership style. He is now more vocal and leads his team by relating to them, and through his actions, and this is all thanks to Michael Jordan and Kobe Bryant.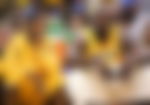 Miller added, "But I've identified relating to my teammates and leading through example. And then the occasional verbal push… I just took my leadership up five notches after really studying Kobe and Jordan."
ADVERTISEMENT
Article continues below this ad
Jordan and Kobe: Amazing leaders
During their time in the NBA, both Kobe and Jordan emerged as great leaders. Jordan, of course, led the Chicago Bulls to six NBA championships, and two three-peats during his career. Furthermore, he was one of the leading men during Team USA's legendary 1992 Olympic victory. Kobe did the same for the 2008 'Redeem Team', and of course, for the Los Angeles Lakers.
Watch This Story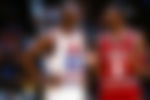 ADVERTISEMENT
Article continues below this ad Who was the better leader between Kobe and Michael? Both players had historic careers and found great success, not just as players, but as leaders. They didn't just lead their teams, but led the NBA into new eras, thanks to their excellent play on the court, and their actions and endeavors off the court.