Former Teammate Explains the Importance of Chris Bosh Amidst LeBron James & Dwyane Wade Era in Miami Heat
Published 03/19/2021, 3:00 AM EDT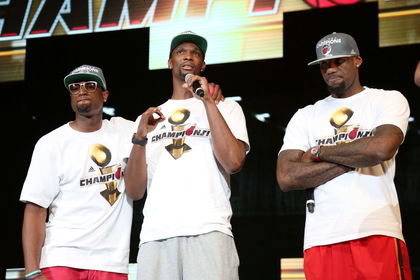 ---
---
The NBA has seen its fair share of super teams over the years – from the Warriors' big three of Kevin Durant, Steph Curry and Klay Thompson to the recent big three of Kevin Durant, James Harden and Kyrie Irving in Brooklyn Nets. But all of it really started after LeBron James and Chris Bosh joined Dwyane Wade in Miami Heat.
The Heat instantly became a super team with three superstars in their prime and were favorites for the title. In four years, the Heat made four appearances in NBA finals and even won two championships.
While LeBron James and Dwyane Wade took the limelight, Chris Bosh wasn't given the star offensive role and was perceived as the third fiddle to James and Wade.
Udonis Haslem explains why Chris Bosh was the most important player in Miami Heat
The Miami Heat veteran forward recently made an appearance on the Posecast podcast. Unlike popular belief, the 40-year-old explained that everyone in the Heat organization knew the importance of Chris Bosh.
Haslem said, "I mean for us you know what I'm saying it was crazy because you know I'm saying whether the public thought like CB took a lesser role or how I looked on the outside we always knew on the inside CB was probably one of the most probably, probably the most important piece you know."
"Maybe the world didn't understand that, but we understood that CB was probably the most important piece to us you know what I'm saying. With the way Dwayne and Bron attack the floor, you need a big guy that can rebound and defend but that can also space the floor."
He added, "The way CB was shooting that ball and when D-Wade and Bron wasn't playing people don't know go check his stats when d-ready brawl was out, boy giving you 30. he was he was getting this game he was winning. We were winning games when d-wade and bron were out and cb would play. You know people don't give him this just dude man CB can hoop man, CB was a real one."
Chris Bosh certainly remained as an All-Star caliber player for the 13 years he was in the league. If not for his blood clotting illness, the 36-year-old would have been one of the best forwards to ever play the game.
ADVERTISEMENT
Article continues below this ad