Former Teammate Makes a Bold Claim Comparing Shaquille O'Neal With Hakeen Olajuwon
Published 06/11/2021, 2:43 AM EDT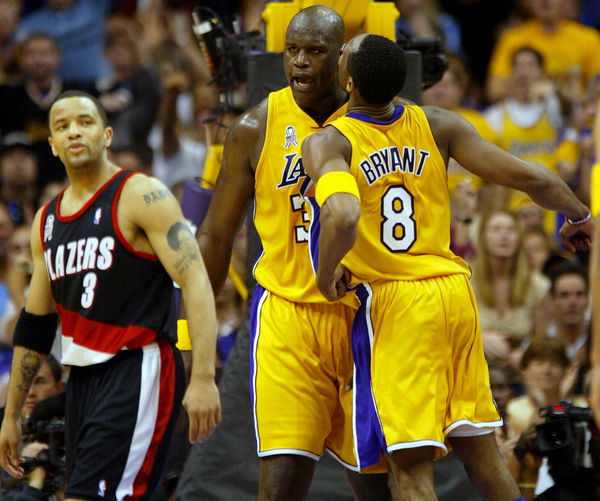 ---
---
The NBA has seen some legendary big men. While the likes of Patrick Ewing, Duncan Robinson, and Dikembe Mutombo were pretty daunting, one of the most dominant centers ever was Shaquille O'Neal.
ADVERTISEMENT
Article continues below this ad
With his massive frame and explosiveness, Shaq was a nightmare to defend. Given how dominant he was, the former LSU big man was often considered as one of the best centers ever. But O'Neal is often compared to one other legendary center for the throne – Hakeem Olajuwon.
Robert Horry reveals who was better between Shaquille O'Neal and Hakeem Olajuwon
ADVERTISEMENT
Article continues below this ad
One of the biggest talking points over the years has been the debate about who is actually the best center in league history. While the debate might not settle anytime soon, former teammate Robert Horry gave his verdict on the same. In a recent appearance on the Russillo podcast, Horry explained why he thinks Olajuwon was better than the Lakers' legend and said:
"Shaq was more dominant, but Hakeem was better… I think as far as talent, I think Dream had more talent. Shaq had handles but dream had a little bit better handles. Dream could shoot free throws. We all know about Shaq free throws. He had a fadeaway, Shaq was just brute strength, just dunk on you and just you know, get you out of the way and I think that is the difference…. Dream had a little bit of strength… Shaq was dominant because of the strength and power and Dream was just a little bit better because of his finesse and his power."
Robert Horry certainly knows a thing or two about both Shaq and Olajuwon. Having played with the Dream, and also with the Diesel, the veteran shooter certainly knows how both the centers play.
While O'Neal was a physical phenom on the court and dominated the court, Olajuwon was considered as one of the most skilled big men the league has ever seen. Who do you think was the better center, Shaquille O'Neal or Hakeem Olajuwon?
ADVERTISEMENT
Article continues below this ad
ADVERTISEMENT
Article continues below this ad