Former Teammate Reveals How Kobe Bryant Made Game Plans Against His Best Opponents
Published 12/26/2020, 11:52 AM EST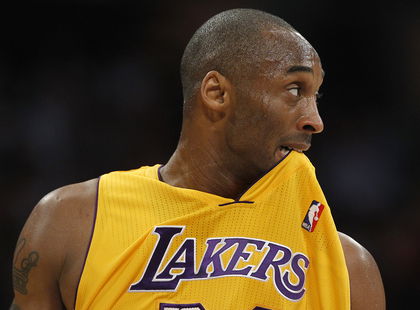 ---
---
Stories about Kobe Bryant never cease to impress. There is so much that the Mamba achieved during his career that fascinates a basketball enthusiast. Kobe was a devoted student of the game, and he mastered it by putting in the maximum effort as an individual. Here's a story that proves his dedication to succeed. 
ADVERTISEMENT
Article continues below this ad
Kobe had seen several players come and go in his twenty years as a professional. The Lakers icon had teamed up with numerous athletes, and Wesley Johnson was one of them. Johnson is a 2020 Greek League champion who recently appeared on 'The Field of 68' podcast. 
Wesley Johnson details how Kobe Bryant remained hungry to succeed
ADVERTISEMENT
Article continues below this ad
Johnson and Kobe Bryant played together for two years during the former's stay with the Lakers. Johnson learned incredible things from the Mamba and feels that Kobe enjoyed two different phases in his career. 
"The #8 Kobe was raw. Right to left, left to right, all crazy moves. #24, he dissected the defense. Like everything that the defense did to try to stop him. His counters were only predicated a defense, it was sick. He was like a serial killer in a way," Johnson mentioned. 
Johnson wasn't there in the league when Kobe and the Lakers won the three-peat. However, the Mamba never changed his approach to the game, which made him incredibly special. Kobe was meticulous about taking on opponents even during his final years in the league.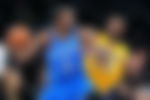 "Yeah, for sure. For sure. He holds notes on his phone. I'm sitting behind and he hit my chair. I turned around. He was like, LeBron, his tendencies. D-Wade, KD, Steph, James. All in his notes in his iPhone," said Johnson about Kobe. 
Johnson revealed how Kobe identified the weakness in a player's game and stood determined on making him play to it. The Mamba always instructed his teammates to tire out their opponents and make them work for the basket. 
Kobe conducted intricate film sessions with the Lakers
Kobe Bryant was a genius on and off the court. The five-time champion found a passion for coaching after his retirement, and he groomed several upcoming NBA stars as well. Only a few understood his hard approach to the game and appreciated them. 
"It was like crazy. Man on the team or whatever, like he knew about everything," Johnson added about Kobe's intricate detailing before facing an opponent. He mentioned that the Mamba used to take down notes about every player on the roster. 
"Like [Kobe Bryant] said, watch their tendencies when they don't have the ball, how did they act. How did they act when somebody else gets the ball? I'm like, 'Dawg!' It was a different type of film session," Johnson continued. 
ADVERTISEMENT
Article continues below this ad
If one watches the video above, it would add more detail on how players revered Kobe Bryant. They looked up to him as a teammate, and the 18x All-Star never failed from giving his maximum effort on the court. 
ADVERTISEMENT
Article continues below this ad
Kobe is no more, but the path he created for the future is reaping results. The talents that he took under his wing after retirement are now putting up wonderful displays in the NBA. One such disciple of Kobe was Kyrie Irving, and we're all witnessing how good he has become.